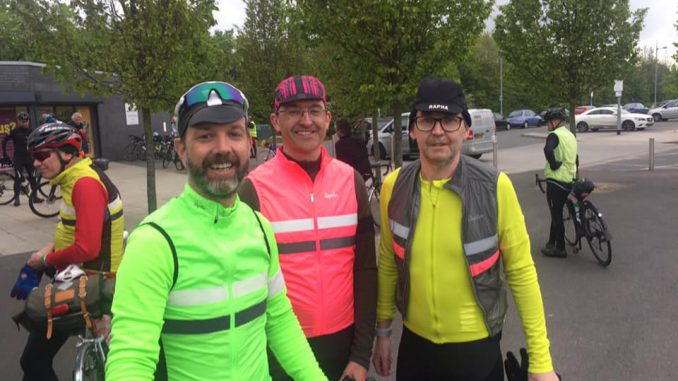 It was at 1am in yet another 24 hr garage when answering the various questions posed by the lady serving us that I struggled; "so you just ride back to where you started?" The absolute futility of the activity that seemed so important struck me. For most of us in cycle sport we end up where we started and if you are a trackie you never even leave. Sometimes an activity just has merit in itself without an aim or destination. That is how I feel about audax.
David, Andrew and I set off on the Invicta Phoenix 400km audax at 9am on Sat 11th May to the strains of Salt n Pepper's "push it" pulsing out from the fitness studio at the Gravesend Cyclopark. A 400km (427 in reality) starting at 9 poses a different riding strategy to on starting at 6 am. Even the fastest riders have to ride through until dawn. With an opportunity to rest in the small hours and a finish cut-off at midday the ride can be split into a multi-day event. Everyone rides faster in the light so the trick is to maximise daylight and use the dark hours as constructively as possible.
The ride began unpromisingly with torrential showers but by early afternoon the sky had cleared to give us sunshine, cool air and light winds. The first 100km of the route weren't particularly inspiring but once out of the orbit of commuter-land the organiser routed us through beautiful villages and back roads towards the turning point at a glamorous retail park on the outskirts of Winchester. After a garage forecourt meal, we headed directly east with afternoon sunshine turning to evening and the South Downs to our right along the stunning Meon Valley. Our strategy was to ride until sunset when we would find a place for a hot meal and change into our night time clothes. This worked very well at a friendly pub in Storrington where burgers, pizzas and other athletic fare dominated the menu. The next 105km were cold but passed pretty well. We kept a steady tempo and rolled along effectively. Unfortunately Andrew was really suffering with his neck and despite having used a copious amount of voltarol announced his intention to pack at Lewes after riding 285km. The lack of hotel rooms or trains foiled this plan so he rode on to the overnight control at Rye another 42 km down the road.
Rye was a classic audax control. It was manned by 3 people who were long distance cyclists themselves. As soon as we walked in, tired and freezing at 3am we were given cups of tea and offered bowls spaghetti carbonara – perfect. Andrew decided to wait at Rye until the morning an decide if he could finish the last 80km. David and I had about 75mins rest where I dozed in my seat before setting out in the pre-dawn light to the finish.

At this point I was cold, feeling nauseous and struggling to stay awake on the bike. However riding between 0430 and 0600 was one of those experiences that make it all worthwhile. The world was silent apart from the dawn chorus and the light grew into the dawn with mist hanging over fields and rivers. It was one of the most beautiful scenes I have ever ridden through and I wasn't even tempted to photograph it; a picture is too one-dimensional to really capture the scene and the feelings. It was punishingly cold though and because I was sleepy I had to resort to asking Dave to chat to me. Despite his best efforts, even the garrulous Mr Scott had a fairly limited stock of anecdotes after 330km.
Apart from a rather emotional ascent of Birling Hill to cross the north downs only 10km from the finish the last leg went smoothly. We rolled in to the Cyclopark 23hrs and 13mins after setting off. It turned out that 2 hrs sleep on a cold scout hut floor was all the recovery that Andrew needed and he set off from Rye at 6.30am and finished comfortable inside the limit. That was a good lesson in resilience. If it seems to be going wrong, stop, have a meal and a rest and re-evaluate what you can do. Next stop our Wales 600km.
Alex Peeke
I was, at one point on Saturday, riding in shorts, with both sun and wind to our back, as we left Winchester; the Meon valley at dusk was indeed a spectacle. But my neck had become increasingly sore all day, and as the evening cooled I could barely hold the handlebars. Ibuprofen and diclofenac were not helping. By Lewes (midnight) I was ready to capitulate, and had there been a train still running or a hotel room vacant the outcome may have been different. But a night spent on the street in a chilly strange town also sounded equally unappealing, and the encouragement of "just another 60km" convinced me to go on, just as far as Rye. That 3hr leg was cold in the extreme, and no way could I have walked out of the warm(ish) scout hut at 4am. So I said goodbye to Alex, Dave, and the character who had decided to ride along with them. Sleep is always possible if you're tired enough, and I managed about 2 hours on a noisy scout hut floor. Opening my eyes the sun was streaming in, and after a quick coffee I set out on the final 80km leg to Gravesend. Bizarrely, this was the easiest part of the whole ride, thanks to the giant heat-lamp in the sky. Except that my Garmin mangled the route file and I was improvising, and substantially off-piste. I climbed the Kent Downs by Vigo Hill – even steeper than Birling Hill! But then I was, accidentally, back on route, all downhill to the Cyclopark. I finished at 11am, with 1hr to spare. And 600km in mid-Wales in 2 weeks – what could possibly go wrong?
Andrew Brown