1. Which track session is most appropriate for me/my child?
Welwyn Wheelers track sessions cater to a range of abilities and ages.
If you are a rider with prior track racing experience and are Youth B or older – we recommend the Monday session – which is an advanced session involving physical, race oriented exercises.*
If you are a Youth B/C/D and have attended a Welwyn track session previously, then we can recommend the Wednesday session – which aims to work on both the physical and skills elements of track racing.*
*Youth Bs have a choice of either the Monday or Wednesday session. A Welwyn coach will happily advise which session is best for you if you are unsure.
If you are a rider over the age of 9 with no track racing experience but have ridden on the track before on a fixed wheel bike, we have the Saturday session which aims to give the rider the ability to ride safely in a group, and develop track skills and craft.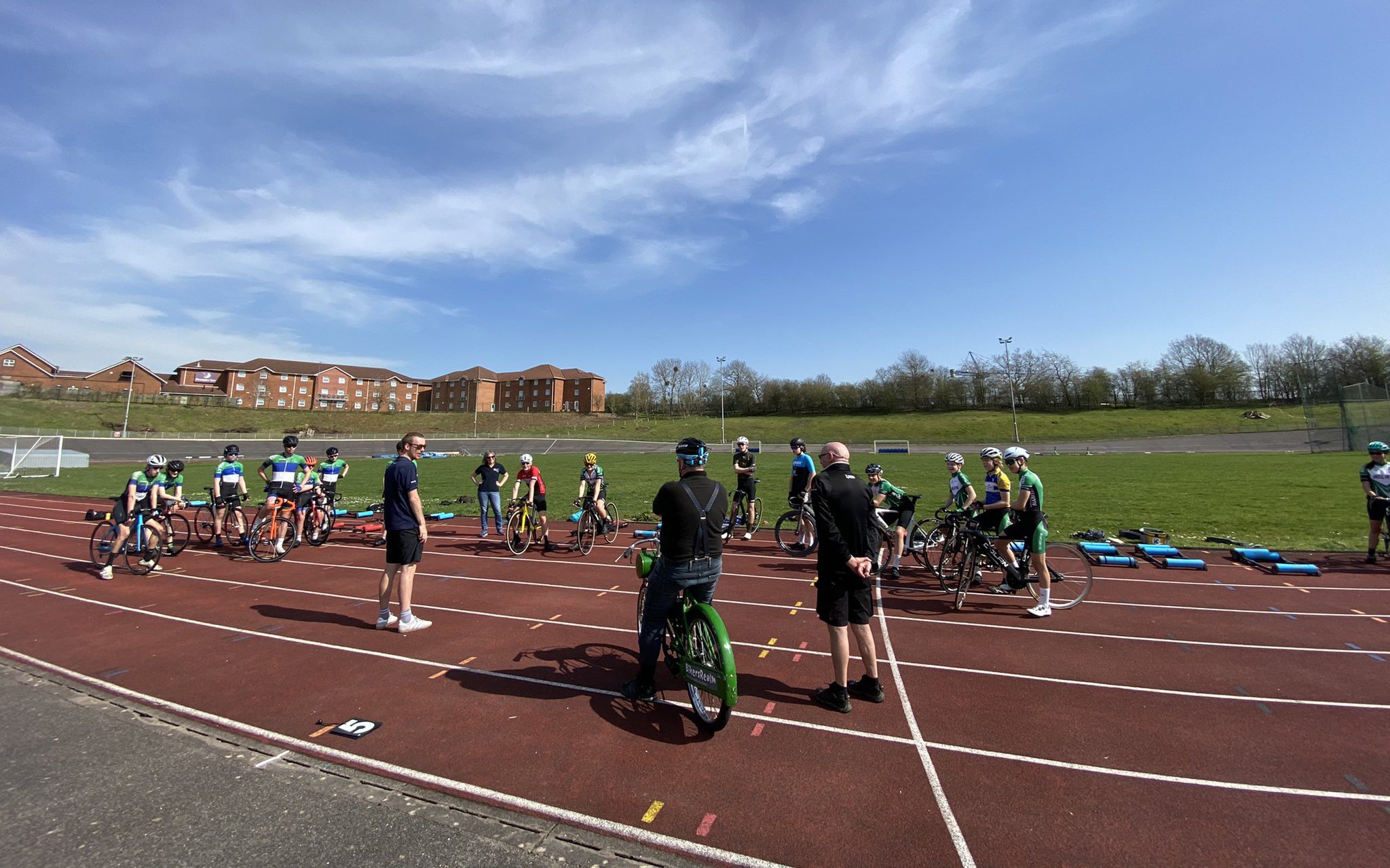 2. Who can attend the Friday night coach led race session?
This session is open to all Senior, Junior and Youth riders who have prior track racing experience. This session simulates the demands of a Friday night track league. If you have not raced before but wish to attend this session, please see the answer to question 3.
3. I have track experience but have never raced, can I still attend the sessions on Monday/Wednesday/Friday?
If you are looking to be accredited for Track League then you can attend these sessions. We ask that you give prior notice via email to coaching@welwynwheelers.org.uk that you wish to attend so coaches can prepare to assess your skills. If you are unsure if these sessions are appropriate for you, then please ask a club coach, who will be happy to advise.
4. When are Welwyn running novice track sessions?
These are now available to book here.
5. I have accreditation at another venue and want to ride the Welwyn track league, do I have to attend a Welwyn training session to be accredited?
If you have accreditation at another track venue (indoor or outdoor), and prior track racing experience, there is no requirement for you to have Welwyn accreditation. However, we would still advise and recommend you come to one of our training sessions to familiarise yourself with our track and our protocols.
If, however, you have accreditation at Stratford for example, but have never raced before we would like to see you at a Welwyn session to be assessed for the Welwyn Friday Track League. Please make sure you give prior notice via email to coaching@welwynwheelers.org.uk, that you wish to be assessed before attending our Monday/Wednesday training sessions or Friday coach-led racing sessions which precede the start of the track league.*
*Mondays – Senior/Junior/Youth A and B; Wednesdays – Youth B, C and D; Fridays – all categories coach-led racing sessions. (After May 21st please attend an appropriate regular session.)
6. How do I know if I'm ready for track league accreditation?
Ask one of the coaches at the sessions you regularly attend. They will be able to tell you how you are assessed and check if you are happy doing the skills and exercises involved in the assessment.
7. I race on the road/I used to race here years ago, do I need accreditation?
If you are a road racer who has never ridden the track on a fixed wheel bike, then you still have to go through novice sessions and then accreditation – it doesn't matter how good you are as a rider, track is a very different discipline to road.
If your last track race was more than 3 years ago, we ask that you attend at least one Welwyn training session to be accredited. This may be helpful to you as a refresher course more than anything else.
8. At what age can children start riding the track?
Once your child is 9 -years-old they are eligible to ride the track. Our freewheel sessions on Saturday and Wednesday provide the opportunity for young riders to develop their skills in preparation for when they are able to ride the track.
9. What happens if it rains?
The track surface at Welwyn is not suitable for riding in all conditions. If it rains heavily before or during a training session, it will likely be cancelled. We always aim to give a good period of notice before we cancel a session, but with the unpredictability of the British weather this is not always possible. When booking, please tick the applicable box to receive an SMS alert for when sessions are cancelled.
10. What do I need to bring to a track training session?
We ask that riders bring:
track bike in good working order,
helmet,
gloves,
clothing to suit the prevailing conditions,
a drink,
any medication you may need,
phone,
change of clothes and shoes.
If the weather conditions are cold, we recommend arm/leg warmers and or jacket/gilet. Riders may also bring a set of rollers to use in between exercises.
We ask that riders arrive 10 minutes before the start of their session and are ready to ride at the designated start time.
11. Do I need to stay and supervise my child?
Parents of primary school aged children are able to stay in the trackside spectators area. We ask that parents do not enter the track centre or coaching area without first asking one of the coaching team. 
For safety reasons, all children of primary school age MUST be accompanied by a parent/carer when leaving the track. Coaches are not responsible for taking children to the toilet and will not allow them to leave trackside without a parent/carer. Toilets are NOT to be used as a changing facility.
USEFUL LINKS
USEFUL CONTACTS
Welwyn Wheelers Head Coach
Francis Gallacher
coaching@welwynwheelers.org.uk
Welwyn Wheelers Welfare Officer
Juliette Barker
welfare1@welwynwheelers.org.uk
07801 062913