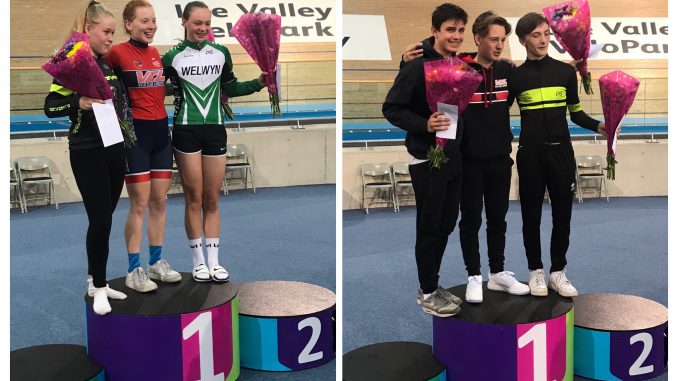 The Welwyn Track League finally got going with an Open meeting on Friday that saw a good evenings racing with 37 senior riders competing in two groups. In the Senior A category Oli Stockwell (wearing Welwyn arm warmers) won the 12 lap Points race and then won the 35 lap 10 mile race leading out the 3 man breakaway group which escaped from the filed in the last 7 laps. Fin Woodliffe won the four Youth 2 events with Elice Whittaker picking up two second and one third place in 6 rider group. Photos can be found here.

The following day a number of the Wheelers youth riders were at the Lee Valley Velodrome for the final round of the National Youth Omnium Series regional group . The top 4 riders in the under 16 and 14 age groups from the Herne Hill and Lee Valley rounds will qualify for the National Youth Final to be held later in the season.
In the Under 16 category Joe Kiely finished second overall to Innes Harvey of VC Londres just 6 points in arrears in the 5 different racing disciplines where consistency was key to maintaining a good final result. Tom Sharples was 4th having won the 2 lap Time Trial and the Kierin, Eaun Woodliffe was 6th overall and Nthan Hardy 15th.

In the under 16 girls series Iona Moir finished in a strong second position with Ellen Bennett 7th. Ethan Storti was 5th in the under 14 boys group and Millie Coleman 8th in the under 14 girls event with Beth Bennett 13th. Rupert Cavill and Fin Woodliffe 4th and 8th and Leon Atkins 9th in the under 12 series. Elice Whittaker finished 4th girl.