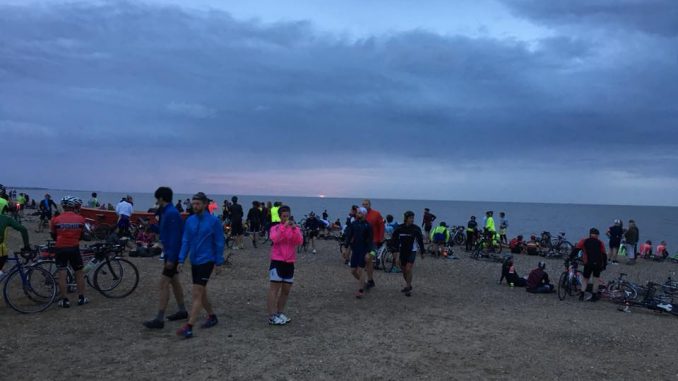 It was that time of the year in July, the weekend closest to a full moon, when literally thousands of people who for some bizarre reason don't fancy going to bed choose a coffee-fuelled ride from London Fields in Hackney to Dunwich (a few miles south of Lowestoft on the coast of Suffolk). Some people treat it like a race with aero road bikes supplemented with clip on bars. Others just cruise the whole way on Bromptons, town bikes etc. in ordinary clothes. Quite literally (as far as kit is concerned) anything goes, no UCI limitations.
Being the really organised person that I am, I left it quite late before asking club members if any fellow insomniacs fancied joining me. Andrew Brown offered to join me in the middle of Essex about 9:30pm. Having nearly suffering frostbite last year (the only cold weather gear I had were my arm warmers) I packed a rack bag with a jacket, warmers, and food etc., as I suspected the weather would turn sour. It did.
I left my house in Enfield at about 6:30pm on Saturday, riding down to London Fields, before heading back out towards Essex. Riding through London wasn't as nasty as I had expected and progress was good. The wind was certainly blowing in the correct direction. Just before Moreton some very nice people were giving away free cake. This briefly halted my progress.
I met Andrew in Great Dunmow at a chip shop where progress was once again briefly halted. We scoffed some chips while the sun set. After discussing recent rides, racing, le Tour etc. we headed out into darkness.
Our next stop was at a fast food van at the side of the road near Bulmer Tye. We both drank coffee and layered up a little as the temperature dropped, before riding into Sudbury. Surprisingly, Sudbury appears to have a rather good nightlife. One of the roads was closed so we took a slight detour through the town centre where a man (who appeared rather intoxicated) was willing to wager me a tenner that he was quicker than me on a bike and could ride my bike "over there and back in no time at all". The rest of the town was full of (most likely intoxicated) people stumbling around and singing in the streets.
The next stop was at Needham Lake where we drank more coffee and I demolished a hot dog. The next coffee stop after that was in Framlingham. After finishing the coffee Andrew said he'd take it easy riding ahead so I could catch up after my nature call. Once I set off I continued down the B1119 and caught a glimpse of some flashing red lights ahead (Andrew was surely one of them). I was gaining on them but they disappeared round a bend. About 5 minutes later having not caught up I started to suspect I'd missed a turning. I was alone as I passed somewhere called "Lonely Wood".
A quick phonecall to Andrew and a check of the map we agreed to meet in Yoxford, I found myself joining the A12 near Saxmundham. This is probably not normally the nicest of roads to ride on (hence not on the official route) but at 3am I only saw one other vehicle over around two and half miles, and that was going the other way.
Once Andrew got to Yoxford we continued on to Dunwich where we arrived shortly after 4am. We each had a Full English and more coffee before watching some of the sun rise. The clouds were blocking about half of it.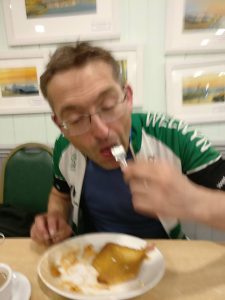 A handy fleet of coaches were waiting on Dunwich beach to transport tired but happy riders back to the Smoke. Sadly, we had not actually booked necessary tickets for the coach home. Tired but not necessarily happy, we set off again back along the official route (this time) and after meeting another rider (also named Andrew), stopped again at Needham Lake. The coffee van had gone. Mr Brown took the train home from Needham while I continued with the other Andrew all the way back to London – now known as a Double-Dunwich. I'd give more detail but tiredness had set in. The ride started to become "character building" with the rain and wind, now blowing in the incorrect direction. As the rain got worse it became truly soul-destroying. I lost count how many times we stopped for coffee and food. I got home around 3pm on Sunday. The pain in my legs has now mostly subsided, but I have a horrible cough and haven't touched the bike since. By the end I'd racked up 226 miles (that's 362 Km for those of you who prefer metric units).
So there you go. If you enjoy riding fairly long distances I recommend the Dunwich. If you've got a screw loose and like destroying yourself, I recommend the Double-Dunwich – just don't organise transport back!
Oliver Chapman (& AJB)