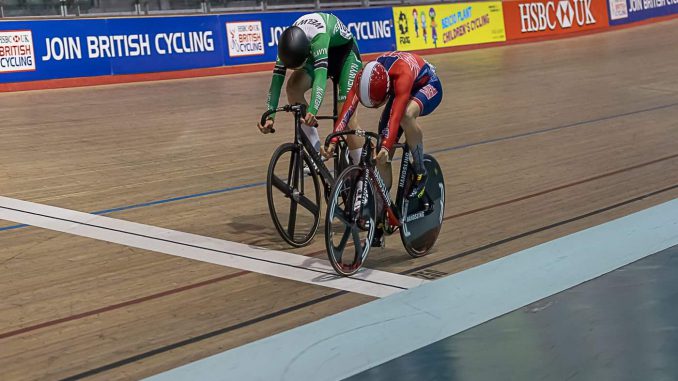 Five Welwyn Wheelers riders were in Newport last week for the Youth National Track Championships. In the under 16 Sprint event at the start of the competition, Tom Sharples set a Wheelers club record of 11.574 seconds for the Flying Start 200m time trial, which is used as a qualifying event to determine the top 12 riders for the Sprint championship heats and finals. Tom went on to finish 5th overall. The previous record had been held by Andy Fenn (Team Sky, Aqua Blue Sport) since 2004.
All three of the U16 boys – Oli stockwell, Joe Kiely and Tom Sharples got through to the 60 lap final of the scratch Championship where Oli finished in 5th place. Oli also finished 5th in the final of the very competitive 60 lap Points race having been in contention for a top three place until the final few laps when a break away rider escaped from the field.
Ellen Bennett and Iona Moir rode in the U16 girls events – Iona was 19th out of 30 in the 2000m Pursuit while Ellen was eliminated in the sprint heats by the girl who finished second in the Event.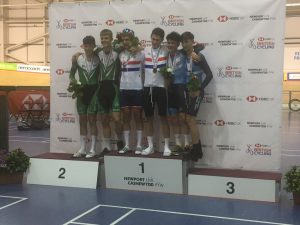 The best result of the week came when Oli paired up with Bob Donaldson (Mossley CRT) in the Madison. In a thrilling final, the 'OliBob' combination picked up the Silver medal while the 'Joekie' combination of Joe and Kieran Riely picked up 6th place.
Charles Rollins represented the Wheelers at the HSBC UK National Cross Country Series Championships and provided this quote:
"Loved racing at Hadleigh Park, home of the 2012 Olympic Mountain Biking at HSBC UK National Cross Country Series Championships on Sunday. After crashing last time I raced there in 2016, breaking my collar bone, I had unfinished business with the course. Always a technical and exposed course with almost 2000 ft of climbing made even tougher in the heat. Came away with 24th U16 which I was glad to take and pretty consistent with my current #21 national ranking for MTB XC"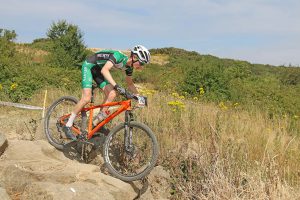 Eleven Wheelers Youth and Junior riders are now in Assen for their annual visit to the Netherlands for the 6 day International Youth Tour. The event attracts around 700 riders from various EU countries and beyond. The event is run on closed roads using a variety of course for the various age groups with everyone riding six races during the week. Three of the club coaches plus parents will be with the Wheelers youth team to assist them in getting to the various venues and advising them on nutrition and equipment to use during the event.