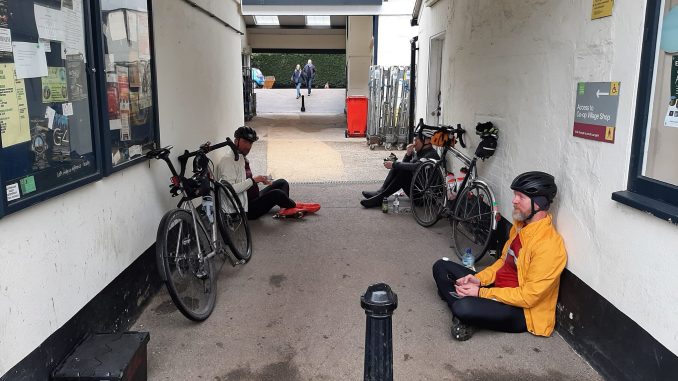 Thanks to Alex Peeke for this lovely write up of the recent 202 km Stevenage Start of Summertime Specials Audax event.
The Grimmest Audax ever…
The day began earlier than I would have liked refreshing the WhatsApp group in the hope that people would start dropping out. They didn't and the rain resolutely continued to drum on the windows.
Devoid of any reasonable excuse I slung my leg over the bike and trundled up to Stevenage for the start where almost the whole group were waiting. Almost because our star rouleur Davide l'Ecosse had gone missing in the vortex of Stevenage bike paths. Eventually he found his way to us and after Jon Williams had finished summoning the spirit of Tom Dumoulin we were off.
The first 5 hours passed in a haze of headwind, rain low cloud, poor road surfaces and indifferent conversation. Even my mention of the historical dialectic could not summon enthusiasm in the dampness. However as we got to the turn at Lavenham the rain lifted and we enjoyed the delights of the Co Op with its cornucopia of pasties and limp sandwiches.
Things looked up with a tailwind but it remained cold and grey. The group split up as people settled into their own pace and inner thoughts. I'd like to say that the miles ticked by but in truth it was interminable.
The arrivee was a convenient but singularly uninspiring Stevenage pub that has definitely not featured in my CAMRA guide. I was so broken that I couldn't face a beer or the 13km ride home so was rescued by Mrs Peeke.
On the positive side we all made it, our kit and set up proved resilient and we suffered no mechanicals.
The team sheet was Alex Peeke, David Scott, Jon Williams, Tony Marriott, Dan Brockman, Adriano Botswold and Julian King.