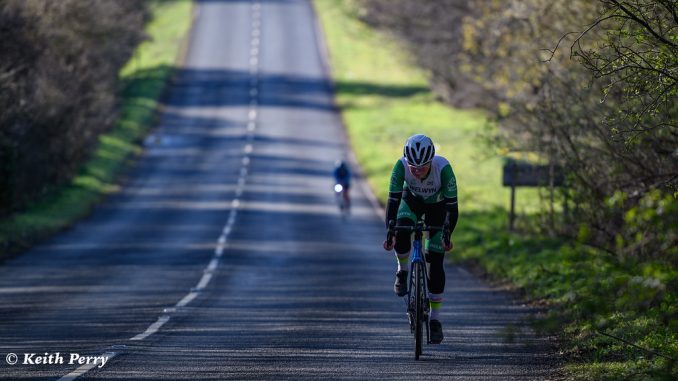 Results highlights from the traditional Welwyn Hilly 50, held in glorious sunshine on Good Friday.
Rob Walker (WardPerformanceUK.com) and Elspeth Grace (Cambridge University CC) were winners of the classic trophies in their respective Senior categories, with Mark Lightfoot (Tofauti Everyone Cycling) narrowly missing out the Junior course record by just 10 seconds. For full results visit here.
Thank you to the support of many volunteers and participants who make this a special event each year. A selection of great event photos by Keith Perry can be found here.
Men
| | | | | | |
| --- | --- | --- | --- | --- | --- |
| Pos | NAME | Cat | CLUB | Time | Prize |
| 1st | Rob Walker | Sen | WardperformanceUK.com | 01:10:14 | £30 |
| 2nd | Luke Clarke | Sen | TMJ Horizon CT | 01:14:04 | £20 |
| 3nd | Mark Lightfoot | Sen | Tofauti Everyone Cycling | 01:14:20 | £10 |
Women
| | | | | | |
| --- | --- | --- | --- | --- | --- |
| Pos | NAME | Cat | CLUB | Time | Prize |
| 1st | Elspeth Grace | W | Welwyn Wheelers | 01:28:52 | £30 |
| 2nd | Jojo Stephens-Smith | W | Hitchin Nomads | 01:41:26 | (one prize per rider) |
| 3rd | Catherine Jones | W | Hitchin Nomads | 01:42:41 | £10 |
Veterans
| | | | | |
| --- | --- | --- | --- | --- |
| Position | NAME | CLUB | Time | Prize |
| 1st Man | John Jones | Verulam Really Moving | 01:24:06 | £30 |
| 1st Woman | Jojo Stephens-Smith | Hitchin Nomads | 01:41:26 | £30 |
Junior
| | | | | |
| --- | --- | --- | --- | --- |
| Pos | NAME | Club | Time | Prize |
| 1st Man | Mark Lightfoot | Tofauti Everyone Cycling | 01:14:20 | (one/ rider) |
| 1st Woman | Molly Barker | Welwyn Wheelers | 02:00:03 | £10 |