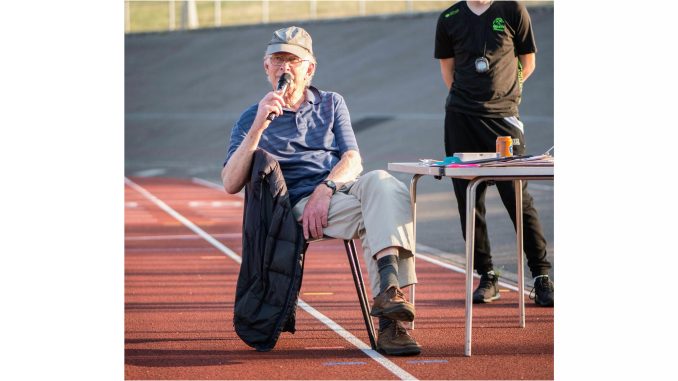 7th February 1933 – 16th January 2023
It is with greatest sadness that Welwyn Wheelers announce the death of Peter Waghorn, MBE, at the age of 89. Peter had been suffering with a hereditary kidney disease which caused his health to deteriorate. This was exacerbated by a fall in September 2021, breaking his shoulder. Peter became very frail in the last few months and passed away peacefully in his sleep in the early hours of Monday morning, at the Oakview Lodge Care Home in Welwyn Garden City.
Peter is well known to generations of cyclists across the North London area and beyond. He will be remembered as a long-time volunteer and supporter of sport at a local and grass-roots level. He was Club Chairman for Welwyn Wheelers for many decades and remained on the club committee at the time of his death, though failing health prevented him from attending meetings in person in the last year. In 1968, Peter took over as organiser and promoter of Welwyn Track League, which takes place during the summer at the velodrome at Gosling Sports Park. He stepped down from this role just a few years ago but remained on the Track League organising committee. Peter was a keen spectator and attended the Track League during the 2022 season, when his health and weather permitted.
Peter moved to Welwyn Garden City from Haslemere1 in his early twenties to work at ICI. An enthusiastic sportsman, he participated in hockey, cycling, sailing, & squash. In each case gravitated towards the administrative side, taking roles in organising the clubs for which he played. For cycling Peter joined Welwyn Wheelers in 1953. During the early years of Peter's involvement, during the 1960s, the club enjoyed remarkable success with several riders competing at international level. Peter himself still holds the club tandem record, set with Mike Daniel, in 1960, for the "out and back", Welwyn Garden City to Biggleswade course.
A back injury prevented Peter from continuing as a racing cyclist. Despite this setback, Peter continued to satisfy his competitive nature through squash and sailing. Peter went on to dedicate himself to the organisation of both the Welwyn Wheelers cycling club and the charitable trust which ran the Gosling Sports Park. Peter had an influence in cycle racing generally, in the Eastern Region and North London areas. Interest in cycling has not been consistent through the history of Welwyn Wheelers club and in the early 1990s numbers of active club members were few, but throughout Peter kept club activities going. On one memorable wet Tuesday evening, only one rider turned up for the Club 10-mile time trial, held on the Codicote-Hitchin course, but still Peter was there, sitting in his car in a layby, happy to act as timekeeper.
From 2000 onwards, interest in cycling saw a resurgence. Helped by four inspirational club coaches: Gerry Edmunds, Sophie Bruton, Simon Layfield and more recently Francis Gallacher, club membership flourished under Peter's guiding hand. The club's youth development structure proved highly successful with a generation of riders going on to national and international honours, World and Olympic medals. Some of those riders have become household names: Laura Trott (now Kenny) and her sister Emma, Andy Fenn and Peter Bissell and Ryan Owens. Many other youngsters and adults discovered a passion for cycling and life-long friendships, through the activities of the club.
Peter never married, unless one counts being married to sport, but he enjoyed being in the company of women and building life-long friendships. He regarded Welwyn Wheelers as his family. For many years, Peter was present at all club training activities and Track League events, collecting subs, up to 5 days a week in the summer. He organised and promoted the Welwyn Track League for 50 years, ran the weekly summer Club 10's and served on the board of the Gosling Charitable Trust. Peter organised Open time trials, up to four Track Open Meetings per year, attended divisional meetings and served on the board of the National Federation (BCF), and more. Peter was not known to suffer fools, but nonetheless won the affection and respect of cyclists far and wide. He was renowned for remembering the names, numbers and racing categories ("A's" or "B's") of Track League riders, even after decades of their absence from the sport. Several riders remember coming to the Gosling Velodrome in their youth, later taking sons and daughters, and later still grandchildren, down to the track always to be greeted by the ever-present "Wag". He set an example of unpaid and often unsung local community service which few will ever be able to match.
Peter was appointed to MBE in 2013 for services to Sport reflecting his huge contribution not only to cycling, but also sailing and other sports, throughout most of his adult life. Peter sailed for many years at the Grafham Water Sailing Club2 and served there as Commodore. Peter's sister and brother predeceased him, but Peter was close to his niece Susan and had two other nieces and a nephew. Peter's wishes are for a private cremation. Welwyn Wheelers are hoping to organise a Commemoration Event to celebrate Peter's life, details of which will be communicated once finalised.
Welwyn Wheelers Cycling Club
19 Jan 2023
---
1. Memories of Peter Waghorn from Haslemere & District Cycling Club
2. Grafham Water Sailing Club – Peter Waghorn MBE 1933 – 2023
---