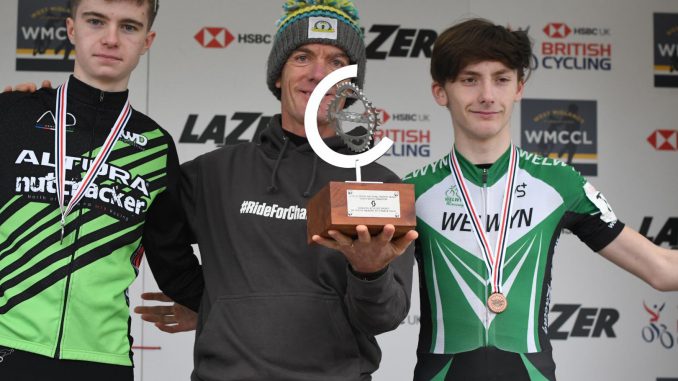 This weekend saw the 6th and final round of the National Trophy Series, held in Shrewsbury, birth place of Charles Darwin and a redesigned course designed for survival of the fittest!
The spectacular mud of previous years did not materialise making light work for those manning the jet washes. The course was not without its challenges however with long fast sections, steps and switch-backs. Despite the lack of rain, the course was just muddy enough to make the going nicely slippy and challenging.
7 Welwyn riders made the journey to compete. First up were the youth girls with Ellen Bennet and Iona Moir representing the club in the U16s and Millie Coleman in the U14s. The girls all got off to a good start. Ellen had a good start and was in a group of 4 fighting for 4th place. After a couple of laps the group caught the 3rd placed rider and it was a close race between all of them from then on. Ellen lost a bit of time on the technical section on the last lap but recovered to sprint for a fine 6th place in the race and 6th overall in the National Trophy series. Iona finished 22nd. Millie did not have the best race of her series. Starting 4th on the line, an 'argument' with a tree in an early lap put paid to her race plan and she came in 24th
Next up were the youth boys with Joe Kiely and Euan Woodliffe representing the club in the U16s and Calum Moir in the Mark Lightfoot in U14 boys. Joe, Adam Bent and Corran Carrick Anderson got away from the start – Coran took the lead after 2 laps while Joe and Adam (2nd and 3rd overall in the series) watched each other. With 2 laps to go Joe attacked Adam and closed to Coran. This caused Coran to sit up allowing Adam back on. Joe then took the lead, overtaking a back-marker who responded by riding into his back wheel knocking Joe's chain off. This left Joe chasing the two leaders, whom he caught, however another back-marker incident forced Joe him to run the final off-camber section leaving him to settle for 3rd in the race with Euan finishing 9th. In the U14 boys race, Mark finished an excellent 8th and Calum 19th
This marks the end of the Trophy Series for this year with fantastic results for the Wheelers, including Joe's 3rd overall in the series. Next weekend sees the final big race of the CX season with the National Cyclo-Cross Championships at Gravesend's Cyclopark.