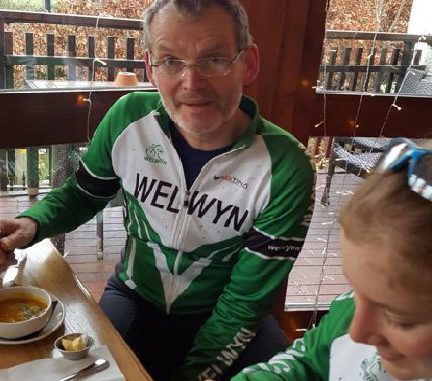 Although we all love our great sport, sometimes it is time to do something a bit different. In a moment of inspiration, Adrian Boswood had the idea of following canal towpaths in a circular route. It proved to be a great combination of those winter staples; off-road riding and long steady distance.
In the end 7 of us (Alex Peeke, Elspeth Grace, David Scott, Faye Bennett, Philip Coleman, Adriano Botswold and Jon Williams) set out at 0830 from the red Lion at Digswell Hill. It was a misty morning but dry and mild which is as good as you could hope for on 30th December. A forlorn Dan Brockman waved us off on his way to save more chocolate guzzling kittens and turkey bone chewing puppies.
The first section involved old railway lines taking us to Hemel Hempstead after which we made a suburban detour to meet up with the Grand Union Canal at Nash Mills. This section of the canal is very pleasant with little hump back bridges and proper countryside. It took us past the Grove (a favoured haunt of association football professionals) and a couple of golf courses where people clearly hadn't heard that cycling is now the thing. It remained surprisingly rural as we went though Watford and Rickmansworth and apart from a few joggers, it was very quiet.
We continued south until West Drayton when we started east towards central London. The scenery changed from bucolic to a post-apocalyptic wasteland of burnt out scooters and crumbling factories. After passing Hillingdon cycle circuit we stopped at a pub for lunch in Greenford. It was the sort of place that would have been heaving on a sunny day but was almost completely empty on a Sunday lunchtime in winter.
Suitably refreshed we continued towards central London and the scenery once again changed dramatically as we approached Maida Vale and the so-called "little Venice". Apart from a canal, I could discern little in common with La Serenssima but the prosperity was evident. At this point we had to leave the canal to get past the Lisson Grove tunnel and when we rejoined we were at the back of Regent's Park. The towpath was now quite busy and got even busier until at Camden Lock we had to walk past all the people taking selfies on an otherwise unremarkable canal bridge. At Kings Cross we said goodbye to Elspeth Grace who had a prior engagement (just 6km short of the festive 500km) and then had to leave the canal again for the mile long Islington tunnel.
When we regained the towpath the crowds had abated but not enough to prevent Adriano Botswold hitting the deck in a gallant attempt to avoid civilians. Fortunately he avoided going into the canal and only suffered a sore knee and a third rip in his threadbare tights.
Before long we were on the Hertord Union then the Lea Navigation going past the Olympic Park. The path became quiet again and we started making rapid progress northward. As on the way out, it very quickly felt remote and rural. Dusk came and lights were lit. By the time we reached Nazeing it was properly dark and those without powerful lights were riding using the force. At Hertford we left the waterside and joined the Cole Green Way for the last section into Welwyn Garden City.
We covered 93 miles (149km) and less than 10 miles were on road. Although the terrain was not particularly challenging it made for an interesting ride and the distance off-road certainly left me pretty tired. It was a great reminder that with a bit of imagination, your bicycle can take you interesting places and you can have a minor adventure starting from your front door.
Alex Peeke