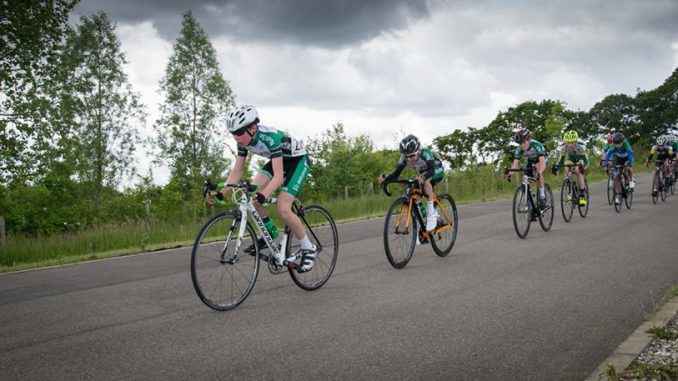 There was some good racing at Hog Hill on Saturday.
More photos can be found on our FB page HERE
Joe Kiely started the ball rolling with a second in the U12 race, just pipped in the sprint to the line.
In the U14 boys, Jamie Dene, Ollie Stockwell and Sam Asker all rode well near the front of the race throughout, keeping the pace high, but it came down to a sprint up the hill on the last lap, with Jamie taking second, Sam fourth and Ollie close behind.
In the U14 girls, Lauren Higham and Imogen Chastell were in a 4 girl lead group. One girl got away towards the end leaving Lauren and Imogen to take second and fourth respectively on the sprint for the line.
In the U16 girls, Millie Gage rode with U14 rider Josie Griffin. Both were in a small lead group and this time Mille won the sprint, with Josie an excellent third.
Finally in the youth races, Michael Parry and Nathan Blackmore started. Nathan had a terrible start, unable to clip in and spent the entire race chasing, picking off stragglers, but unable to close on the bunch. Michael rode well, making a couple of attempts to break away, but no one was able to make a break stick and it came down to a large bunch sprint, with Michael take fourth.
Michael then stayed on to race the Cat 3 race without the hill, 3 hours later. There were many attacks and Michael chose the right one to bridge to, forming a group of 4 who worked hard together for lap after lap to ease out a 15 second lead, in the process catching, passing and then lapping the Cat E12 race that started ahead of them. The peleton finally gave up the chase with 2 laps to go, leaving the 4 to sprint it out. Michael had nothing left and cruised in to take a hard earned fourth.
Bob Parry