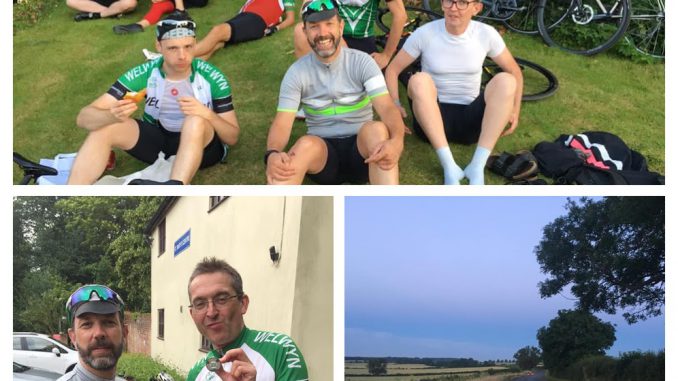 Riding through the night and into the next day is something only audaxers do. There are a few other night rides around (e.g. the Dunwich Dynamo) but they all end at dawn; half a ride I say. The main draw of the Hereward the Wake 300km audax is the fact that it begins at 9pm on a Friday night with most riders finishing between 11am and 1pm the next day. To add to the challenge, this event is called and "x-rated" audax. That is not quite as interesting as it sounds, it means is that apart from the start/finish, there are no manned controls or food provided. You need to pick up receipts as proof of passage and forage off the land (meaning 24hr garages).
Four of us set out on this jolly jaunt; David Scott, Oliver Chapman, Andrew Brown and Alex Peeke. There were another 40 odd riders on the start line, mostly very experienced audaxers. The route describes a rough triangle of going north to Whittlesey (basically Peterborough), then south-west to Newport Pagnell and then east to Great Dunmow via Biggleswade. We set off into a glorious warm evening and despite the slight head wind, a good pace was set on the front. As sunset turned to proper darkness we reached Cambridge which was a hazardous chicane of drunk people, clueless tourists and "cyclists" without lights. Despite the nice scenery, I was glad to reach the less remarkable suburbs where we stopped at a late night CoOp to get our first receipt. The next section was unremarkable apart from the fact that we lost Dave who had punctured without us knowing. After 20 mins of anxious waiting with no phone reception Dave appeared out of the darkness much to our relief. Just after 1 in the morning we reached the turn at Whittlesey where we feasted on junk food. A young reveller stopping for cash to pay her taxi couldn't understand why this otherwise drab forecourt was full of strange cyclists – she had a point. At this point our group broke up temporarily. I rode off to take the opportunity to roll gently while the others frankly faffed about. I was soon joined by Olly and then about an hour and a half later by Dave and Andrew. The re-grouping was temporary as we then lost Olly until Newport Pagnell. This section was the highlight of the ride. We had open clear skies so the pre-dawn light began at about 2.30 and grew until sunrise around 4.30. The temperature had dropped and there was an atmospheric mist over the rivers and lakes as we rode through pretty villages still fast asleep with no cars on the road.
The bucolic atmosphere came abruptly to an end as turned into the service entrance of Newport Pagnell services to enjoy the delights of overpriced bottled water and lacklustre coffee. We spent an hour there and a couple of us took the opportunity for a quick nap. Once we had left we were soon on fairly familiar roads near Old Warden before another breakfast at Biggleswade in a bizarre coffee shop with a fitness studio annex. The day was warming up but was cloudy enough not to be too oppressive and we kept up a good pace to the finish with only a brief stop at the Silver Ball café for a drink and ice lolly. There we rapturous scenes at the finish as Andrew Brown was presented with his first Super Randonneur medal for completing a series of 200,300, 400 and 600km rides in one season. Kudos also to Olly for completing his first audax – straight in with a 300km.
https://www.strava.com/activities/2508441580
Alex Peeke