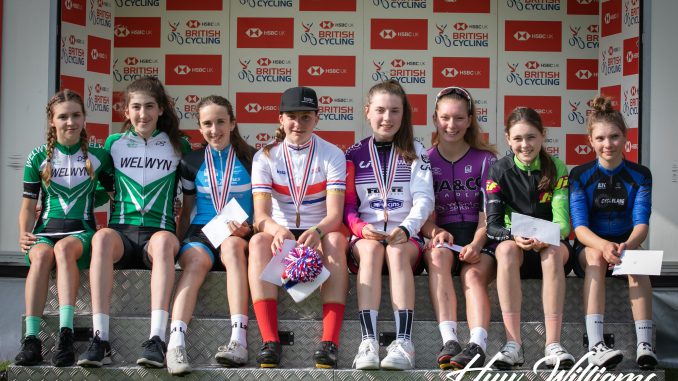 After winning a hat-trick of National Jerseys over the last 3 years, the Welwyn Wheelers Youth riders achieved a number of top ten places as the National Youth Circuit Championships returned to the brutal Oliver's Mount hill circuit in Scarborough for the second year in a row.
Ella Coleman and Ellen Bennett put in great performances in the under 16 girls race. They were in the leading group after two laps of the top circuit and the race began to split as the field tackled the first of 7 climbs of the the lower circcit. Ella and Ellen maintained their places in the leading group as the race progressed, Zoe Backstedt broke away with 2 laps remaining and won the title. Ella and Ellen were in a group of five riders vying for third place as they approached the uphill finish and finally finished in 5th and 6th place. Iona Moir had last contact after the field split up the 12% climb and came in 38th.
Calum Moir also had a good race in the under 14 boys event – he was in 5th place climbing the final hill but was overtaken in the final straight (a long false-flat drag) to finally take 9th place with Mark Lightfoot in 13th, 4 seconds back. Dylan Starkey finished 61st.
Millie Coleman finished 12th in the under 14 girls event. She was in the leading group as the race got to the fifth and final lap but the group then split due to the severity of the climb.
Fin Woodliffe had the top Wheelers podium place when he finished in third place in the supporting under 12 event.
The under 16 boys race started dramatically with the field firstly wiped out and then split after a crash heading in to the second lap, with the leading group managing to get away to the disadvantage of Joe Keily and Nathan Hardy who finished in 26th and 27th, while Euan Woodlife retired on lap 2 with a mechanical problem.
A hard days racing at Scarborough and all credit to all riders who competed in the race on such a tough circuit.