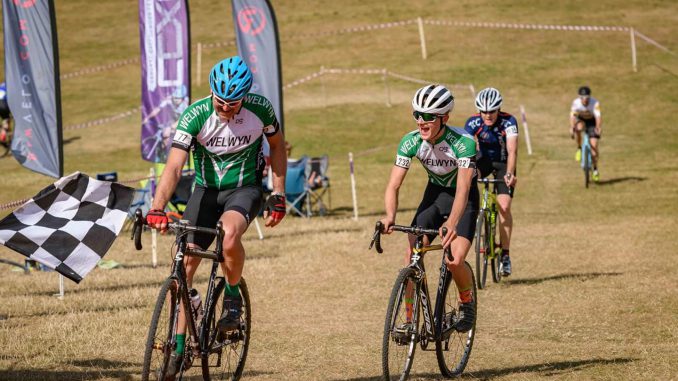 The Central and Eastern CX leagues have started another season with a huge turnout of members already taking part in the early rounds on grass courses (too early for mud!). Lots of young riders have moved up an age group and it has been great to see a few new names giving racing a try for the first time.
Archie Peet celebrated his 17th Birthday by winning the CCXL Junior race on Saturday. As it is run together with the Vet 40s, his Dad thought it would be nice to enter the same race. Nearing the end of the race, and about to be lapped (again), an exhausted Jeremy slowed so that Archie could pass and take the chequered flag (meaning that he could then stop). However, Archie kindly shoved the veteran in front as they crossed the line in order to force Dad to do another lap.
Daniel Elliott also claimed his first CX win of the season at Springfield amongst many good placings for the club.
CCXL R1 – Team Milton Keynes Cross
Junior Men
1 Archie Peet
13 George Gould
14 Thomas Holt
Vet 40-49 Men
33 Thomas Hinchliffe
81 Jeremy Peet
Vet 50-59 Men
41 Garry Blackmore
U16 Boys
9 Cormac Nisbet
13 Jake Manning
U16 Girls
2 Beth Bennett
3 Sasha Blendis
U14 Boys
4 Finlay Woodliffe
5 Rupert Cavill
U14 Girls
3 Lucy Allsop
5 Ellen Phillips
6 Elise Whitaker
8 Lena Alford
U12 Boys
2 Leon Atkins
6 Henry Landon
U12 Girls
2 Katie Allsop
Eastern League R1 Amis Velo Hilly Fields Supacross
Senior/Junior
49 Ewan Elliott
Women
22 Ellie Cadzow
Veteran Men 50+
32 Garry Blackmore
Youth
3 Mark Lightfoot
11 Toby Brown
17 Dylan Starkey
23 Rupert Cavill
26 Fin Woodliffe
27 Millie Coleman (1st U14 Girl)
U12
17 Megan Hughes (5th Girl)
U10
2 Daniel Elliott
Eastern League R2 Springfield Cross
Senior/Junior
16 Joe Kiely
Women
20 Ellie Cadzow
Youth
2 Euan Woodliffe
4 Nathan Hardy
5 Mark Lightfoot
8 Calum Moir
11 Ethan Storti
13 Toby Brown
16 Dylan Starkey
20 Finlay Woodliffe
21 Rupert Cavill
25 Millie Coleman (1st U14 Girl)
U12
15 Megan Hughes (3rd Girl)
18 Elijah Storti
U10
1 Daniel Elliott