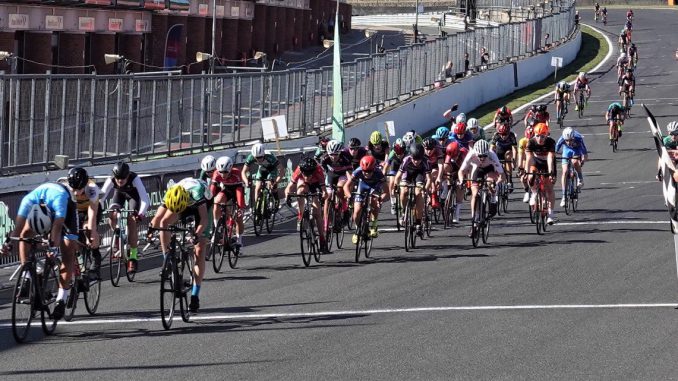 The 2019 British Cycling Youth Circuit Series wrapped up at Brands Hatch on Sunday with Calum Moir achieving second place in the Youth B boys race by the narrowest margin of 0.067 seconds to Jed Smithson in the bunch gallop. Mark Lightfoot (14th), Ethan Storti (18th), Dylan Starkey (30th) and Sam Quiggin (31st) all finished in the same group after some great attacking by all of the boys.
Calum (who has been likened to the great Raymond Poulidor due to his haul of significant second places this season) now progresses to the Youth A ranks along with Mark.
In Youth B girls race Millie Coleman also showed her class with a fine 6th place in the bunch sprint. The rest of the girls squad had commitments elsewhere with Ellen and Iona competing in a composite team in the Watersley Women's Challenge Stage race in Holland.
In the Youth A boys race Nathan Hardy and Euan Woodliffe took it in turns to put the hurt on with several attacks on the wide circuit, that is notoriously difficult to get away on. Nathan's first ambitious solo effort going as early as lap 2.
Euan's highlight came when he bridged across to a break of 2 riders late in the Youth A boys race but, after a major pull with a lap to go and the bunch closing, concluded that the break wasn't going to stick and saved his powder for the bunch sprint. Sods law – the bunch slowed and the 2 other lads stayed away to the end. Euan finished in 16th place with something to reflect on.
We are delighted to report that both Euan and Nathan have both been selected as Great Britain Cycling Team Apprentices for the next season and look forward to following everyone's progress in the National Road series next year.