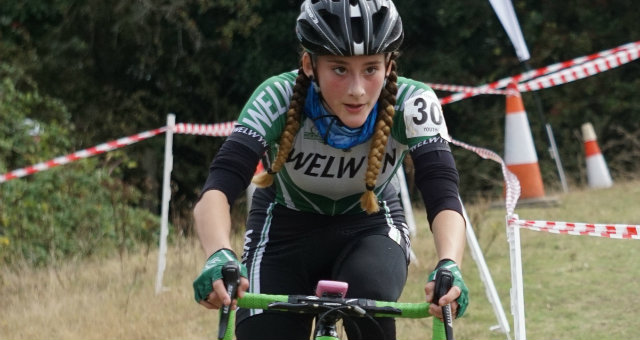 The Wheelers were in fantastic form in the Amis Velo cyclo- cross race at Colchester on Sunday notching up 5 first paces across the various age and race categories.
Finlay Woodliffe opened the proceedings in the 27 rider Under 10 race winning the race by 7 seconds. Dylan Starkey led the 26 riders in the under 12 race at the end of lap 1 and finally finished in third place
The youth race for under 16 and under 14 riders had a massive field of 64 riders – Oliver Stockwell attacked from the start and opened up a gap and led the race to the finish to win the Under 16 category. Joe Kiely was in second place for the first half of the race but was caught by Mark Lightfoot (CC Ashwell) and the two of them were still together as they approached the finish – Joe just lost out in the sprint for the line but was first rider in the under 14 category.
This slideshow requires JavaScript.
The Wheelers had a number of riders in this race, all of them rode well – Tom Martin 9th, Tom Sharples 10th (3rd under 14), Euan Woodliffe 13th (5th under 14), Lauren Higham 17th – first youth girl.
The senior races followed – the 50+ race included the Women and Junior girls and had a full field of 80 riders. Elspeth Grace won the Womens race by a significant margin and was placed 19th overall.
The 40-49 group also had a full field – Keith Stockwell was in 15th position at the end of lap one and worked his way through the field to finally finish 10th with a strong ride – Martin Dossett was just behind Ketith on lap one but unfortunately suffered with a puncture which ended his race.
Last race of the day was Senior/Junior – Michael Parry was in a group of three junior riders in the top 10 positions and at the end of the one hour race Michael was 8th overall and 3rd Junior.
An excellent days racing with around 350 riders taking part in the event and good performances by the strong band of Wheelers riders