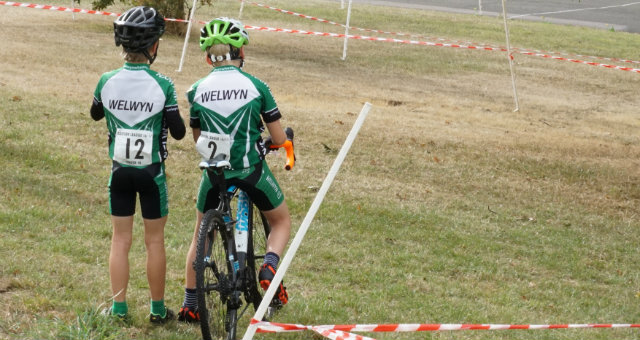 Welwyn Wheelers cyclocross riders were treated to two Eastern Cyclocross League races last weekend. They were well represented in all races over both days and dominated the results.
On Saturday the races were held at Redbridge Cycling Centre in North London (Hog Hill). Welwyn Wheelers had riders in all 6 races, with 13 riders competing.
This slideshow requires JavaScript.
In the under 10 race Rupert Cavill won, beating team mate, Finn Woodliffe, by 22 seconds. Finn crashed in the first lap but fought back to follow Rupert over the line.
Thomas Dixon rode in the under 12 category and finished 11th.
Five riders rode in the Youth race (under 14 and under 16 combined). National champion Ben Tullett (Beeline Cycles RT) held off Welwyn Wheelers Oliver Stockwell who finished second under 16 boy. Joe Kiely from Welwyn Wheelers finished third in the race and was first under 14 boy by 4 minutes. Tom Sharples had a crash and a puncture but still finished 8th overall and 3rd under 14 boy. Euan Woodliffe finished 14th (7th under 14 boy) in his first race as an under 14, moving up from 15 minute races last year to 30 minute races this year. Michael Sumner finished in 24th (13th under 14 boy).
Next up was the women (junior, women and women veteran) with the veteran men 50 + race. Elspeth Grace, riding in this age group for the first time, was first woman by a wide margin, completing 6 laps in 48 minutes 58 seconds.
Martin Dossett and James Robertson rode in the men's 40+ race. Martin finished 14th and James 26th.
In the final race the senior and junior men raced for an hour. Michael Parry finished in 5th place, and was first junior rider. Nathan Blackmore, riding his first race in the open category, was 4th junior (13th overall).
On Sunday racing moved to Springfield Park in Chelmsford. It was an uncharacteristically hot day for cyclocross. The course included 3 sets of steps and 2 sets of hurdles. 13 Welwyn Wheelers competed across all but the under 10 race.
Dylan Starkey rode a strong race and finished 7th in the under 12s race.
This slideshow requires JavaScript.
In the youth race, Oliver Stockwell again finished second behind the national champion and more than a minute in front of the third placed rider. Joe Kiely crashed but still finished 5th overall and first under 14 boy. Lauren Higham had a close race to finish 2nd under 16 girl (11th overall). Tom Sharples punctured and crashed but finished 19th (7th under 14 boy). Michael Sumner finished 24th in a field of 55.
The Womens/ Men Veteran 50+ race was sold out, with 80 rides entered. Welwyn Wheelers Elspeth Grace was first woman with Kinetic Cycles / Welwyn Racing's Sophia Chastell almost 2 minutes behind, having slipped her chain. Elanor Cadzow from Kinetic Cycles / Welwyn Racing finished as 4th woman.
Welwyn Wheelers had 3 riders in the veteran men 40 -49 category. Keith Stockwell finished in 8th place, 2 minutes 13 seconds behind the winner. Martin Dossett finished 20th, with Alex Peake 22nd.
In the final race of the day, Michael Parry again rode strongly. After an hour of racing Michael finished 10th overall and 2nd junior.
Welwyn Wheelers riders have started the 2016/17 cyclocross season with very good results across all categories.