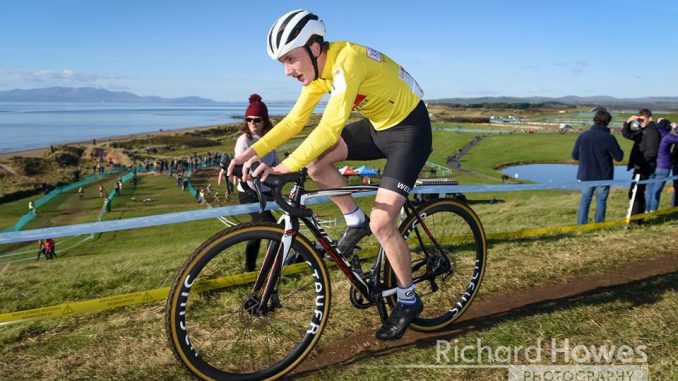 For the second round of the National Trophy, British Cycling served up a trip to the seaside, or more aptly, 'Firthside', with the venue being Irvine Beach on the Firth of Clyde in Bonnie Scotland.
Following a very mild and dry early autumn, a relative cold snap with a small chance of rain was forecast for Sunday's youth races. Although the previous day's Vets program had endured a biting cold wind, Sunday brought glorious sunshine and pristine blue skies with vistas out to Arran and mountains to the North. You would be hard pressed to find a more picturesque setting for a 'cross' race.
So with another bone dry, fast course, the transportation of jetwash equipment and barrels of water for 400 miles was as pointless as a bald hedgehog.
Although a bit of a trek, a few Wheelers had made the journey and were rewarded with a great course, lots off-cambers, sharp ascents and descents, a double set of hurdles (that many bunny-hopped) and a couple of short stretches of sand. Throw in a lively commentary, and amongst other things, a techno version of The Proclaimers' 200 miles over the PA and a great atmosphere was achieved. The below video captures the essence of the event beautifully and is recommended viewing.
In the U16 girls Iona Moir was 10th, despite having a puncture just before the start, which Dad, enjoyed the 'excitement' of fixing. Millie Coleman was 12th in U14 girls.
In the U14 boys Calum Moir came 22nd and Joe Kiely had a battle for 3rd, losing the leaders jersey, but remaining equal on series points.
Next time is a little nearer to home at Crawley in two weeks time. There's sure to be a few more WW'ers and guaranteed some great performances.