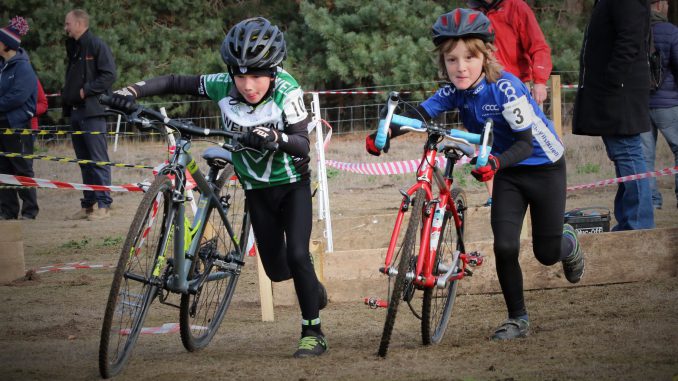 The majority of the Wheelers Cyclo-cross riders rode the Central League event on a new course near Whipsnade Zoo on Sunday.
The weather was fine but the long grass on the course made for a really strength sapping situation – however the Wheelers riders dominated the various youth races with some excellent skills. Xavier Knott was third boy in the opening under 10 race followed by a 1,2 for Rupert Cavill and Finn Woodliffe in the under 12 event with Dillon Knott 5th. Elise Whittaker cane 5th in the girls race. Calum Moir won the under 14 boys race with Thomas Dixon 14th and Cormac Nisbet 22nd
Millie Coleman rode well to take second in the U14 girls category. The Wheelers took the first 4 places in the under 16 girls race – Iona Moir, Eva McCabe, Ella Coleman and Sasha Blendis. Holly Blaxland was the 30th Woman and 2nd junior girl.
Euan Woodlife won the under 16 boys race by around 50m having been in  a breakaway group of two riders throughout the event – Euan Attacked in the last half lap for a comfortable victory. Toby Brown 6th and George Gould 13th.
The largest race of the day was the 40+ category with well over 100 ridrs on the start line – Keith Stockwell was 23rd, John Cavill 36, Tom Hinchliffe 45 and Richard Blaxland 63rd. Garry Blackmore was 37th in the 50+ event but Chris Murphy was unfortunately a non-finisher due to a mechanical problem
A few of the teenagers got the miles in by riding to and from the event as well as competing. Oli Stockwell won the junior Boys race with Louis Sutton 7th and Archie Peet coming 11th, after his first lap 'incident'. In the senior race Nathan Blackmore finished 22nd and Ben Smith 46th,
The previous day a small number of the Wheelers rode the Eastern League race at West Stow. Young Daniel Elliot came a nice 6th in the under 10 race, Finn and Euan Woodliffe won the under 12 and Youth races, with Nathan Hardy 8th, Caelen Miller 11th and Dylan Starkey 35th also in the Youth race. Malcolm Starkey was our sole vet, coming in 48th in the V40s.
A busy weekend is ahead with Round 3 of the BC National Series event at Crawley  – a number of the top Wheelers riders will be there including Joe Kiely who will be defending his joint lead in the under 16 category.