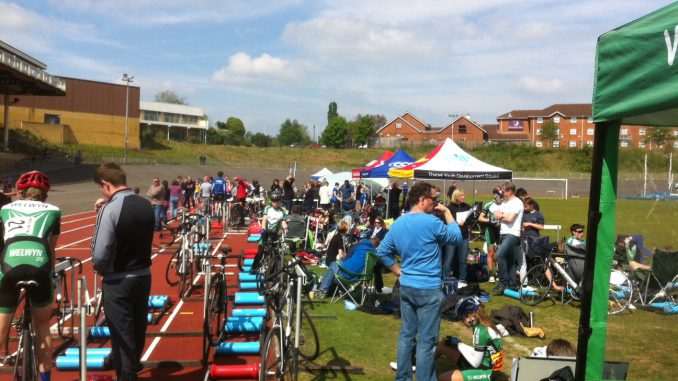 Yesterday was the 2nd round of the 2017 Regional Youth Omnium Series. Welwyn hosted over 100 young riders in 3 age categories; U12, U14, U16 in 6 hours of impressive racing.
As a club we put on a great racing performance with Welwyn riders participating in every category.
U12 Boys      Dylan Starkey, Thomas Dixon, Tommy Liddiard, Thomas Oliver, Harry Eagle, Cormac Nisbet
U12 Girls       Beth Bennett
U14 Boys      Joe Kiely, Euan Woodliffe, Tom Sharples, Max Jackson
U14 Girls       Ellen Bennett
U16 Boys      Oli Stockwell, Archie Peet, Joe Bennett
U16 Girls       Josie Griffin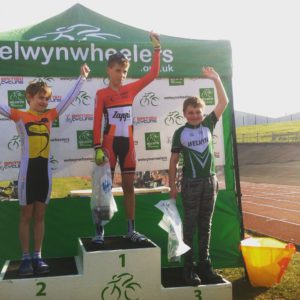 The day was a huge success with the full programme of races completed without a single incident and even the sun made an appearance! We have received some excellent feedback on how smoothly and professionally the event ran.
This would not have been possible without the enormous support of members and parents who helped with set up, gate marshal, sign on, catering, judging, holding, time keeping and clearing up – as well as those who provided the delicious cakes!
It is a lot of work to put on an event of this size and we are grateful for all the help received. It is particularly encouraging to see the knowledge and experience involved with some of the major roles being passed on to newer members of the club.
Thank you to those that volunteered (in no particular order & apologies for anyone missed out):
| | |
| --- | --- |
| Faye & Tim Bennett | Mark & Lucy Sharples |
| Robert Dixon | Mike Harrington |
| Dani Eagle | Bob Parry |
| Chloe & Andy Evans | Henry, Annalise & Jeremy Peet |
| Francis Gallacher | Sam & Ben Stockwell |
| Jax Rooney | Mark & Morag Woodliffe |
| Elspeth & Rona Grace | Peter Waghorn |
| Richard, Alison & Dan Maynard | Dave Kiely |
| Chris Bodell | Amanda Hayter |
| Claire Lewis | Clare Fisk |
| Ellie Cadzoe | Amanda Oliver |
| Malcolm Starkey | Chris Murphy |
| Nick Brown | Alex & Graeme Anderson |
| James Asker | Jamie Quiggin |
| Sallie Bracewell | Amanda Griffin |
Thank you again.
Susi Sharples