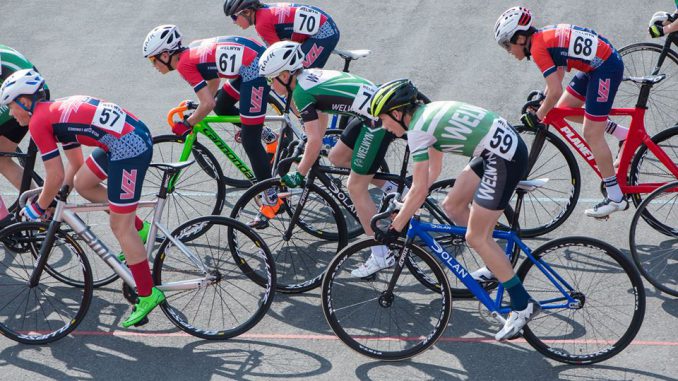 The Welwyn Youth Omnium Sunday May 7th
A long and busy day at Gosling Sports Park as the organisers of Round 2 of the South East Youth Omnium. Over 100 riders had pre-entered for the event.
Parts of the race team were there at 8.30am to start preparations for the day – organising the refreshment stock, setting up the signing on desk and the gear check system.
Riders started arriving soon after 9.00am, gazebos erected and the officials and helpers were all in place and ready for the first race at 12 noon
Highlight of the day was the fast and top quality racing in the 29 strong under 16 boys events. VC Londres riders filled the top three positions led by Oscar Nilson–Julian – Oli Stockwell was the top placed Welwyn rider in 9th position with Archie Peet 15th,and Joe Bennett 16th.
Sophie Lewis (CC Ashwell) was the dominant rider in the Under 16 girls event winning all 5 events. Josie Griffin was third and Imogen Chastell (VCL) 4th.
Joe Kiely and Euan Woodliffe finished 3rd and 4th and Tom Sharples 6th in the Under 14 boys group of 25 riders while Ellen Bennett was 7th in the girls series.
Six Wheelers rode in the 25 rider group in the under 12 boys series – Thomas Dixon and Mark Lightfoot (CC Ashwell) finished on equal points in 3rd (but Mark Lightbook had better result in Points race so Thomas Dixon moved to 4th) , Dylan Starkey was 5th with Cormac Nisbet and Thomas Oliver 10th and 12th respectively.
The days racing and the prize presentations were finally completed by 6-15pm and by the time everything was dismantled and packed away it was around 7-00pm. It was a tough and tiring day for both the riders and the 'race team' but well worth the effort. One major relief was a day of 'crash-free' racing, no ambulances !
Congratulations to Susi Sharples (Race organiser) and the large team of club officials and helpers. A job well done.
The third and final Round of the local Omnium series is at Stratford Olympic Park next Sunday. The top 4 riders in the Under 16 and Under 14 categories based on the results of all three rounds will qualify for the National Final at Herne Hill.