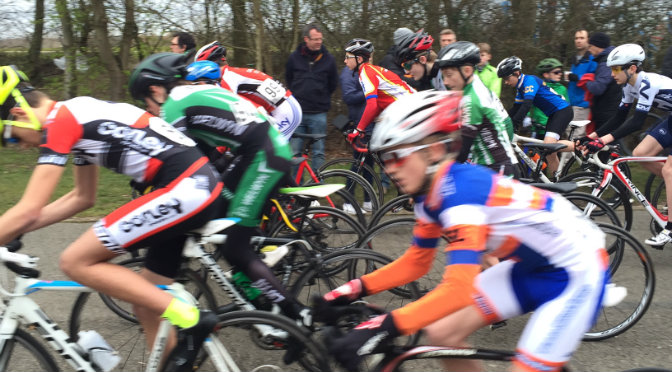 The Welwyn Wheelers youth riders were out in force at the Milton Keynes circuit race on Saturday with riders in all of various age category events.
The under 16 boys race had a big field and was run at a fast pace – breakaways were all chased down and it was a bunch sprint finish for the field – Sam Asker and Tom Durkin finished in the pack. Nathan Blackmore was brought down in a crash with two laps remaining and was unable to finish.
The next event for under 16/14 girls contained three Wheelers riders – Lauren Higham was forced into the grass with 5 laps to go, derailed her chain and lost contact with the field but chased for two laps to regain contact with the race. Elspeth Grace, Lauren and Jenna Miles all finished in the pack.
In the under 14 boys race Olie Stockwell rode near the front of the race throughout and marked all breakaway attacks – it all came down to a very tightly contested sprint finish for three riders which Olie won by inches with a well timed burst in the final metres to take the victory. Joe Kiely finished in the middle of the bunch in 12th place. In the under 12 race there were two Wheelers riders – Euan Woodliffe and Isacc Whitten. Once again it all came down to a bunch finish and Euan took a well deserved second place.
The under 10 category race – Dylan Starkey 4th, Thomas Dixon 6th, Rupert Cavill 8th and Finn Woodliffe 9th
At the Redbridge circuit race at Hog Hill on Saturday the Welwyn/Kinetic ladies team lined up for their first event of the season – Sofia Chastell and Caia Casciello rode well and stayed in the main bunch for the whole race – Sofia was 15th and Caia 17th at the finish in a tough good quality race.
On Sunday a number of the Wheelers competed in the Hemel Hempstead Hilly Time Trial – top placed rider in 8th place was Andrew Digby. Annabell Sill and Lauren Higham were 2nd and 3rd in the ladies section.
On Good Friday the Wheelers are promoting a 50km Hilly Time Trial on a course starting in Codicote and covering a circuit via Hitchin, Whitwell, Kimpton and finishing in Codicote. A good entry of 96 riders will be taking part in this annual event.
Two of the Wheelers Ladies – Lesley Courtney and Claire Fisk rode in the E1234 Women's race at the Cyclopark with a field of 30 riders. Lesley rode really well to finish her first circuit race and Claire finished in 6th place.
Peter