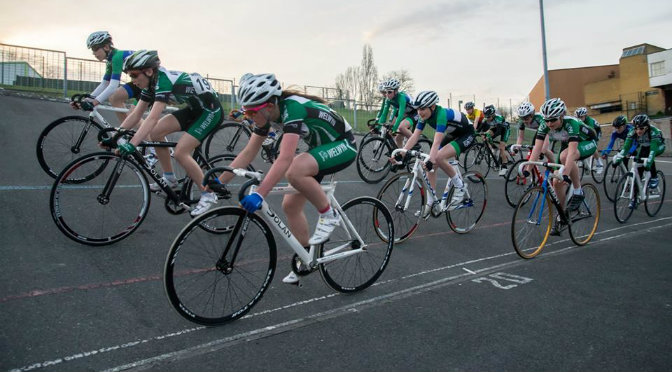 There is no 10:30am Novice session this Saturday (7 May) as we have the Youth Omnium. (The Improvers session will run 9am – 10:30am).
The next three Saturdays (14, 21 & 28 May)  will have a "Novice" slot from 10:30am – 12pm.  This will mainly be for the existing novice riders.
Novice track riders will need to be at the track before 10am to register and sign on. Riders will then be allocated a bike where possible. (Some bikes may still be being used in the earlier "Improvers" session). There will be a short rider briefing before riders enter the track centre. Riders will then be split into two groups to start the session.
Rider Info:  Minimum age 8 years
Session Fees:
Senior non Welwyn Members £7
Senior Welwyn Members £5
Youth U18 Non Member £5
Youth U18 Welwyn Member £4
Required: It is mandatory to wear a cycling helmet and track mitts/gloves whilst riding on the track. Riders are requested to provide their own helmet and track mitts. (Helmets must conform to safety regulations).
Track bikes are available to hire on a first come first served basis at £4 per session, subject to size availability.
We recommend the following:
Legs: Padded cycling shorts are best but normal sports shorts and/or close fitting track suit/jogging bottoms or leggings would be fine; they must be close fitting so they do not catch the wheels or chain!
Upper Body: A lightweight long-sleeved top with a t-shirt or base layer underneath is suitable. Shoulders must be covered. Long or short sleeve cycle jerseys would be the best option. (Be prepared for the prevailing weather conditions on the day!).
Shoes: You can wear normal trainers for track sessions as the hire bikes are fitted with Toe clips and Straps or if you wish to bring your own cycle shoes, with fitted cleats, we use Look Keo pedals, so shoes fitted with Look Keo cleats can be worn. Please note that other makes are not necessarily compatible – even if they say that they are! You may not bring your own pedals for use on our hire bikes.
Please note: if the Track is wet, the session may need to be cancelled and re-arranged for a later date.
Ideally riders will need to confirm their interest to take part via e-mail to tracknovice@welwynwheelers.org.uk providing details, as described on the novice registration form, or complete the online form below.