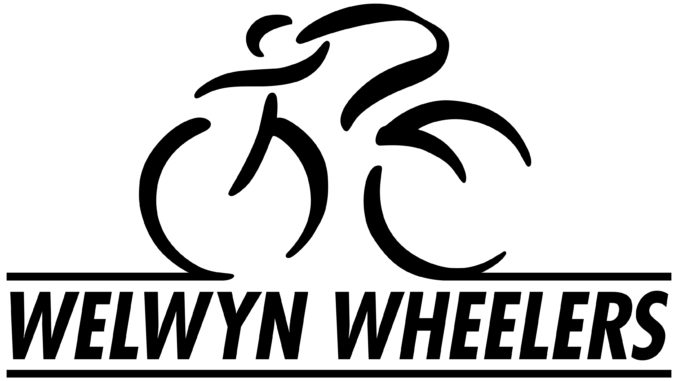 WELWYN TRACK LEAGUE – 31st JULY 2015
Sponsored by Peloton Hatfield
Jodie Taylor Takes Flight
31/07/15 at Welwyn Wheelers track league meeting Sponsored by Peloton Hatfield and supported by Herts County Council. Saw 15 youth riders take to the track and 22 senior riders.
The senior A racing saw John McClelland (Bush Healthcare CRT) further tighten his grip on the title with good wins in the scratch and 10 miler. The most exciting race for the As came in the Italian pursuit, which was neck and neck throughout and was edged by the back straight team lead home Mitchell Powell (Team Terminator).
Brian Evans (Herts Wheelers) had a great evening in the Senior B racing picking up two very well deserved wins in the scratch and the unknown distance.
The youth AB racing was dominated by Nathan Blackmore (Welwyn Wheelers).
In the youth CDE racing Jodie Taylor (Colchester Rovers) gave the best performance of the evening taking a great win in the 0.5 lap dash. Taylor went flat out from the gun and was able to edge out Euan Woodliffe (Welwyn Wheelers) in the closing meters.
The Senior A madison is to be held on the 14/08/15. To date 12 teams have signed up so come down and watch, as it promises to be the most exciting evening of the racing series.
Senior A
10 lap Scratch – John McClelland (Bush Healthcare CRT) Joshua Roberts (Zappis Racing Team) Kristain Woolf King (Cliffe Flyers CC) Bradley Clark (Green Arrow CRT)
15 Lap Points – Joshua Roberts (Zappis Racing Team) John McClelland (Bush Healthcare CRT) Mostyn Taylor Crockett (Welwyn Wheelers) Bradley Clark (Green Arrow CRT)
Italian Pursuit – Martin Elliott (Hackney) Joshua Roberts (Zappis Racing Team) Kristain Woolf King (Cliffe Flyers CC) Keith Bryceland (Welwyn Wheelers) Mitchell Powell (Team Terminator)
10 Mile Scratch – John McClelland (Bush Healthcare CRT) Mitchell Powell (Team Terminator) Joshua Roberts (Zappis Racing Team) Mostyn Taylor Crockett (Welwyn Wheelers)
Senior B
10 lap scratch – Brian Evans (Herts Wheelers) Tom Beasley (East London) John Sumner (Welwyn Wheelers) Chris Lodge)
10 Lap Points – Tom Beasley (East London) Michael Skipsey (SD RT) Georg Georgallides (Finchley RT) Eric Paillet (North Road)
Unknown Distance – Brian Evans (Herts Wheelers) Michael Skipsey (SD RT) Georg Georgallides (Finchley RT) Mark Winstone (NA)
Youth AB
8 Lap Scratch – Nathan Blackmore (Welwyn Wheelers) Josh Murad (EHF Velopro) Reece Pollen Welwyn Wheelers)
8 Lap Points – Nathan Blackmore (Welwyn Wheelers) Reece Pollen Welwyn Wheelers) Josh Murad (EHF Velopro)
1 Lap Dash – Nathan Blackmore (Welwyn Wheelers) Josh Murad (EHF Velopro) Reece Pollen Welwyn Wheelers)
7 Lap Handicap – Nathan Blackmore (Welwyn Wheelers) Katie-Ann Elliston (Southend Wheelers) Reece Pollen Welwyn Wheelers) Sophie Ellis (CC Ashwell)
Youth CDE
3 lap Scratch – Tom Sharples (Welwyn Wheelers) Euan Woodliffe (Welwyn Wheelers) Michael Sumner (Welwyn Wheelers)
4 Lap Points – Tom Sharples (Welwyn Wheelers) Michael Sumner (Welwyn Wheelers) Euan Woodliffe (Welwyn Wheelers)
0.5 Lap Dash – Jodie Taylor (Colchester) Euan Woodliffe (Welwyn Wheelers) Michael Sumner (Welwyn Wheelers)
4 Lap Handicap – Michael Sumner (Welwyn Wheelers) Ben Griffin (Welwyn Wheelers) Max Jackson (Welwyn Wheelers) Amelia Hopper (Colchester Rovers)