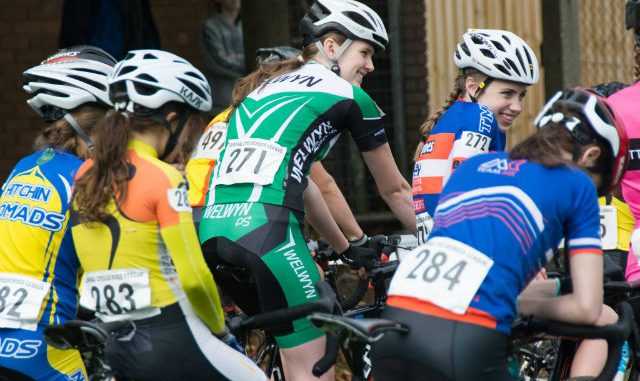 The club cyclo-cross riders were racing in three different locations on Sunday October 8th – 13 of the top riders went to Derby for Round I of the British Cycling Cyclo-cross series, 25 were at Leighton Buzzard for the Central League race and 15 were at Helena College near Stevenage for the Eastern League event run by CC Ashwell.
There were massive fields in all events at Derby and recent rain made sections of the course very slippery and caused a number of falls Oli Stockwell had a tremendous race in the 77 strong under 16 race and was in a race long battle with two riders for the majority of the event but and was in the lead approaching the finish but was overtaken in the last 100metres on a bend by Joseph Pidcock (Paul Milnes team) and in a close finish had to settle for an excellent second place. Joe Kiely was 7th Archie Peet 15th and Tom Sharples 40th , Charles Rollins and Rizvan 64 and 73.
Euan Woodlife was in the leading group in the 65 rider under 14 race but lost contact when his gears got tangled up with the course marking tape, he recovered well and finished 5th with Caelan Miller 12th. Other results – Elspeth Grace 15th and 5th junior in the Womens race, Ellen Bennett 19th Under 16 girls event, Joe Bennett 39th and Nathan 46th in the Junior race
In the Central League race Henry Landon won the Under 10 race with Xavier Knott 7th, Rupert Cavill was 2nd in the under 12 event with Dillon Knott 6th and Tom Dixon 7th. John Cavill 28th in the 90 rider 40 + race with Tom Hinchliffe and James Robertson 52 and 55
In the Senior Novice race Lawrence Davies 4, Richard Blaxland 8 and Rob Dixon 16th. Freya Butler was first Junior girl and Holly Blaxland 2nd under 16, Sasha 3rd under 14 girl.
In the CC Ashwell Eastern League the top results were – Dylan Starkey 1st under 12 , Daniell Elliot 1st in the under 8 event. Rob Bloxham 18 in the 50+ race
Another busy weekend.