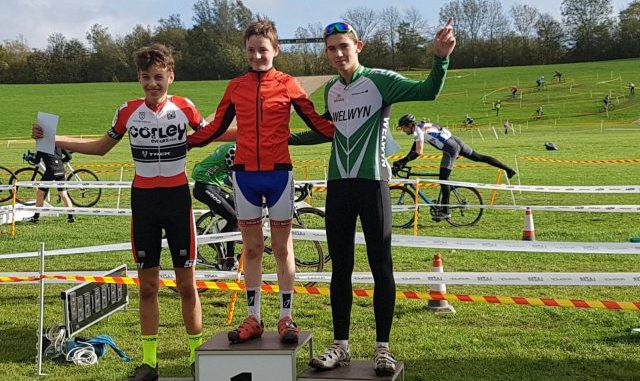 A busy week for the club riders – the opening round of the Full Gas winter track league on Thursday plus two cyclo-cross events on Saturday/Sunday and a hill climb.
The Central cyclo-cross event at Milton Keynes on Saturday was dominated by the club youth riders – Daniel Elliott scored the first victory of theday in the Under 8 race , Henry Landon took second spot in the under 10's with Xavier 5th . Finlay Woodliffe won the under 12 event with Dylan Starkey 3rd, Rupert Cavill 4th,
Dillon 7th and Tom 9th.
In the under 14 race Euan Woodliffe got left at the start with a mechanical problem when his chain snapped, he ran to the pits to change bikes and was then last. He fought his way back through the field to take a well earned win with a great ride. Caelen Miller 4th and Tom Oliver 11th.The under 16 race had a host of Wheelers riders – Tom Sharples 2nd, Rizwan Hameed 4th, Louis Sutton 5th, Charles Rollins 7th.The girls were also on the podium – Beth 2nd under 14 Sasha 3rd, Ellen top under 16 girl with Eva McCabe 3rd and Alice Mills 7th Freya Butler 2nd in the Junior girls race. Rob Dixon was 16th in the Novice category.
The Eastern cyclo-cross event at Mistley in Essex on Sunday saw Dylan Starkey win the Under 12 with Fin Woodliffe third, Euan Woodliffe won the under 14 event and Keith Stockwell had a good result in the 40+ race finishing 15th in a strong field. Elspeth Grace won the Womens race. Also on Sunday Caelan Miller scored his first win of the season in the London League Cyclocross race
Eight Wheelers were at the Olympic track on Thursday evening for round 1 of the Full Gas winter track league – Tom Sharples had a positive start winning the scratch, points and elimination race which means he holds the leaders jersey for Group 2 going into round 2 of the series on 16th November. Micheal Sumner is 5th and Caelan Miller 8th in the same category. Archie Peet is 6th in Group 1
Jamie Dene was at Matlock on Sunday and took two second places in the Junior Hill Climb.
Peter