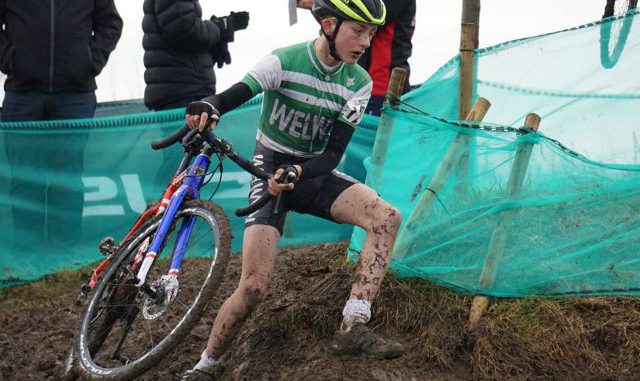 The Wheelers youth riders notched up a number of victories at three different cyclo-cross venues on Sunday.
Pride of place goes to Joe Kiely who won Round 5 of the British Cycling National Cyclo-cross series at Shrewsbury. He won by 20 seconds from a field of 52 riders for his second win in this prestigious series and narrowly missed out on taking top place in the 5 event series – the overall winner being Finlay Pickering (Hull Thursday CC) who was 4th in the final race.
Of the other riders who went to Shrewsbury – Oli Stockwell was 7th in the under 16 race, Elspeth Grace 10th in the Elite Womens category, Lauren Higham 9th under 16 girls and Tom Sharples 19th under 14 boys.
The Wheelers youth riders again dominated the Central League event at Hillingdon – another 1,2,3 in the under 10 boys group led by Rupert Cavill followed by Dillon Knott and Finlay Woodliffe.
In the under 12 event Thomas Dixon was 6th and Beth Bennett 2nd girl. Euan Woodliffe was second in the under 14 boys race while Ellen Bennett won the girls race with Molly Marriott third.
Joe Bennett won the under 16 race with Freya Butler taking top spot in the girls category.
In the Senior series John Cavill was 12th – his best place this year – in the 40+ age group with James Robertson 23rd. In the 50+ age band Mike Hayes was 37th in his first league .
A small band of riders travelled to Stowmarket in Suffolk for the Eastern League event – best ride of the day went to Tom Martin who won the youth event with Michael Sumner 11th. Dylan Starkey 4th in the under 12 race. Dave Martin was 46th in the large 50+ age group event.
In the battle for the Team prize in the Eastern League with only three more events to run the Wheelers, who have won the team prize for the last two years, are just a few points adrift of their rivals – CC Ashwell. The Wheelers will be determined to revive the situation in last three events.
Peter