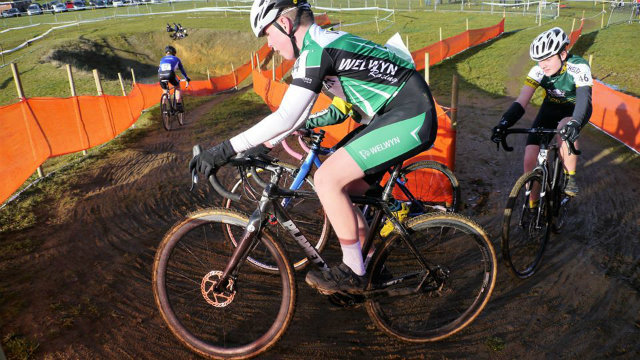 The Wheelers youth riders were in top form for the Eastern League cyclo-cross event on Monday at Trinity Park, Ipswich.
First on course were the under 10 group with Finlay Woodliffe taking 2nd place in a large field. Dylan Starkey rode in the under 12 category and finished in third place behind the overall leader Ben Lightfoot (CC Ashwell).
The youth race was held on a larger tougher course and was dominated by the Wheelers riders – Oli Stockwell won the race and now lies second in the overall league table with just one race remaining. Joe Kiely was second and the leading under 14 rider and he was followed home by Tom Martin 4th, Euan Woodliffe 5th (2nd under 14). Lauren Higham was in 12th position and the leading girl rider.
The largest race of the day was the 50+ combined with the Womens race with a start list of almost 90 riders. Elspeth Grace won the 18 strong Womens race by around 7 minutes and was one lap ahead of the next rider, she was placed 24th in the whole race with another great ride. Dave martin was 55th in the 50+ race.
With one race remaining to complete the Eastern League series Oli Stockwell is in second place behind Adam Lightfoot (CC Ashwell) in the under 16 boys category but Oli needs to win the final race to clinch the series. Joe Kiely and Lauren Higham have already won the under 14 boys and under 16 girls series respectively and the Wheelers have now overtaken CC Ashwell to lead the Team Category.
The Central League series has three more races to complete the season and the Wheelers are well placed in a number of the age group categories
This weekend Elspeth Grace, Lauren Higham, Oli Stockwell, Joe Kiely plus a number of the Wheelers youth riders will be travelling to Bradford to compete in the British Cycling National cyclo-cross Championships.
Peter