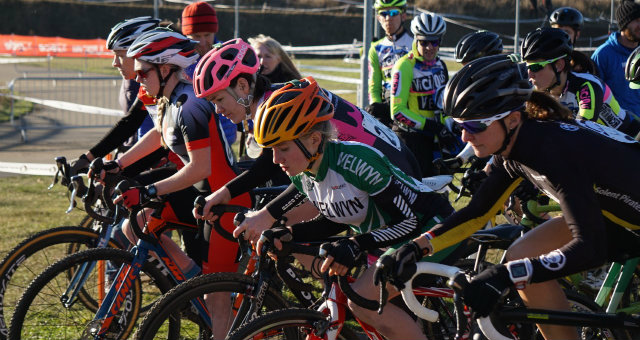 A number of the Wheelers travelled to the Cyclopark at Gravesend on Sunday for the South East and Eastern Inter Regional cyclocross championships.
The under 10s race were the opening race and the Wheelers riders were Rupert Cavill and Finn Woodliffe. A shortened version of the full course was used which still included off camber sections, switch backs, a sand pit and some ups and downs. After a tough 15 minutes in very competitive race and a large field of riders Rupert was 5th and Finlay 9th.
The under 14 and under 16s all raced together, with the girls starting one minute behind the boys. They raced the full circuit including a steep run up, hurdles and steps.
Joe Kiely was first under 14 boy, more than a minute ahead of the second placed under 14 boy. Tom Sharples was 3rd and Euan Woodliffe 5th. Ellen Bennett finished mid field in the girls event
In the under 16 boys race Oli Stockwell was unable to catch the National Champion, Ben Tulett, and finished in second place. Tom Martin was 9th and Archie Peet was 13th with Joe Bennett 3 seconds behind in 14th. Ellen Bennett was 8th under 14 girl and Lauren Higham was 1st under 16 girl.
Next race was the vet 50 men category plus 49 women combined in a massive field of 113 riders. Elspeth Grace with another superb ride dominated the womens race and finished in first place a minute ahead of the second woman. Keith Stockwell raced in the vet 40 mens race but unfortunately punctured so was unable to continue.
A good well organised event – the course had a bit of everything and the facilities at the Cyclopark were excellent. A lot of enthusiastic spectators to watch the racing and a lovely atmosphere. A cold but really sunny day and no mud.
This weekend the top riders will be at Shrewsbury for Round 4 of the BC National seriers