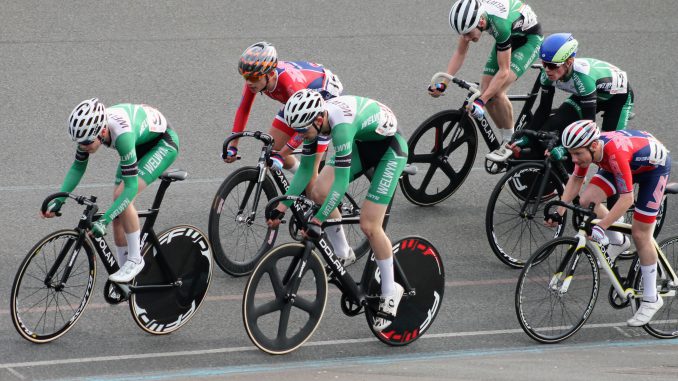 The track season got underway on Sunday with Round 1 of the National Youth Omnium Series regional group, hosted by VC Londres at Herne Hill.
A massive squad of the Wheelers youth riders were there and some great results were obtained in the various age categories. Star performer was Tom Sharples in the 30 rider under 16 group – he won the 2 lap Time trial and the Sprint event, added a 3rd place in the Elimination race and finished second in the scratch race. He opened up a gap in the scratch race and was in the lead on his own for 6 laps but the bunch reeled him in caught him on the final lap. He finished in second place overall losing out by a few points to Innes Harvey (VC Londres). Joe Kiely finished in 4th place with Euan Woodlife 6th.
In the under 16 girls series Ellen Bennett was 6th, Ella Coleman 7th and Iona Moir 8th – despite having to miss out the TT due to a mechanical. Joe and Iona were each awarded the combativity awards, Leon Atkins was third in the Under 12 Omnium with Fin Woodliffe 6th (we're unsure of other results but will update as they come in).
The Archer Grand Prix was a local classic British race run annually for over fifty years and won by a host of 'legends' over the years. Its modern form these days is the prestigious Archer Spring Criterium, held annually at Hillingdon. Ethan Storti was the recipient of some of the excellent prizes coming third in the U14 category – his best result of the season so far.
At the Hog Hill Monument Crits on Saturday, Archie Peet and Adam Lightfoot picked up 7th and 9th in the 3/4 race.
On Sunday, luck was not in abundance for the Wheelers at Round 2 of HSBC UK National XC Series at Hadleigh Park, Mark Lightfoot dropped his chain while in podium position to finish 7th in the Juvenile category and Louis Sutton retired hurt after a tumble over the bars on a rocky decent
Better fortunes visited Ellen and Dan Phillips at round 2 of the VC Venta crit series at the glamorous setting of South Winchester Park and Ride with Ellen 1st U14 (her first Podium for Welwyn Wheelers!) and Dan 2nd U12.
Sharples Shining

Ellen's first Welwyn Win

Ethan

Adam and Archie
The Wheelers will be hosting the annual 50km Hilly Time Trial on Good Friday on local roads. The race starts in Codicote and runs via Whitwell, Hitchin, Offley Hill near Luton and back via Whitwell, Kimpton to finish in Codicote. Over 110 riders have entered the event and the weather forecast indicates a fine warm day for the event