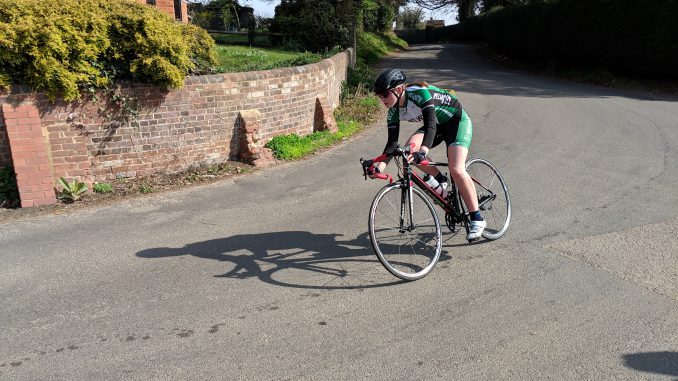 The Good Friday Welwyn Wheelers 50km Hilly Time Trial is an established classic of the regional time trial scene. For this year's event the weather was ideal – a warm day with no breeze, which led to happy marshals (the marvellous Welwyn volunteers out in force again) and an even happier Ashley Cox (Flamme Rouge CC) the winner in a course record time of 1-09-41 out of an excellent entry of 111 riders from 42 clubs.
Archie Peet was the top Wheelers rider with a time of 1-26-40 – taking the prize for the top Junior rider, Naomi Holt was the top female junior rider and Calum Moir was the best Juvenile rider with a time of 1-36-01. 11 Wheelers raced (if you include Elspeth, in Cambridge Uni kit). Our thanks go to Andrew Porter for again organising the event, and all who assisted.
Later that day the Youths were in action at the Alan Rosner Memorial Races and the Castle Coombe Easter Classic. In the U16 category, Ella Coleman won the bunch sprint by 2 lengths and Joe Kiely won his race, going solo from a 4-man break with 2 laps ago. After competing at Hog Hill Nathan Hardy travelled to Belgium where he finished 9th at Geluveld Koerse, riding for BC Central Region.
This weekend will be busy on the track at Gosling Sport park. On Friday the opening meeting of this year's Welwyn Track League and on Saturday the Wheelers are hosting Round 2 of the National Youth Omnium Series regional group with the first race starting at 12 noon.
Welwyn Wheelers CC Hilly TT
41 Archie Peet 01:26:40
52 Andrew Brown 01:29:57
53 Elspeth Grace 01:30:13
56 David Scott 01:31:18
58 Alex Peeke 01:32:09
63 James Johnson 01:33:23
68 Howard Ashmore 01:35:03
70 Calum Moir 01:36:01
77 Daniel Brockman 01:37:31
88 Alison Hinds 01:45:13
92 Naomi Holt 01:52:52
Alan Rosner Memorial
U14 boys
3 Mark Lightfoot
8 Dylan Starkey
14 Ethan Storti
U14 Girls
6th Millie Coleman
U16 Girls
1 Ella Coleman
U16 Boys
1 Joe Kieley
17 Nathan Hardy
23 Caelen Miller
Castle Coombe Easter Classic
U16 Girls
5 Iona Moir
15 Ellen Phillips
U12 Boys
5 Dan Phillips