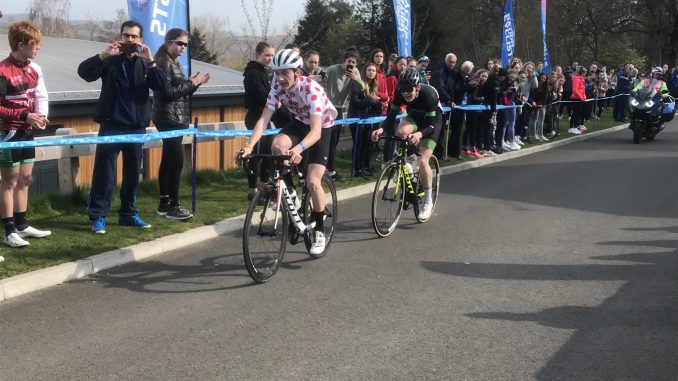 In another busy weekend, six Welwyn Wheelers youths travelled to Perth in Scotland to compete in the Youth Tour of Scotland – with 20 teams of 8 riders (4 boys 4 girls) taking part over three days of fast intensive racing.
Joe Kiely, Euan Woodliffe, Ellen Bennett, Ella Coleman and Iona Moir were selected to ride for BC Eastern Region, while Nathan Hardy rode for Central Region.
The event was covered by extensive 'real-time' reporting on social media and to get the best sense of the highs and lows of the teams over the stages, take a look at the Twitter feeds shared on this website or at @YouthTourScot @BCEasternRegion and @CentralRegionBC
Joe in particular was in fantastic form leading the King of the Mountains competition from start to finish, and winning the final stage from a 2-man break to finish 2nd overall. The Eastern girls team were placed 4th out of 20 teams.
In other news, a number of the mountain bikers got their best results of the season so far with Mark Lightfoot winning his race at MSG round 3, and Andrew Knott also picked up his first Regional points of the season at Lea Valley.
This weekend will see the start of the 2019 Regional Youth Omnium track series where a number of the Wheelers will be starring at the Herne Hill track.
Mud Sweat and Gears Eastern XC Series Round 3
Junior Male
2. Louis Sutton
Juvenile Male
1. Mark Lightfoot
Youth Male
7. Caelen Miller (tbc)
U12 Boys
3. Leon Atkins
U9 Boys
2. Daniel Elliot
East London Youth Circuit Series #3
U12 Boys
2. Rupert Cavill
U14 Girls
3. Millie Coleman
U14 Boys
7. Samuel Quiggin
11. Calum Moir
12. Ethan Storti
U16 Boys
5. Caelan Miller
CC Hackney – Primavera #1
4th Cat
8. Andrew Knott
17. Oliver Chapman
Icknield RC (London North Millennium 3/8) 30km TT
58 Andrew Porter (Vet)