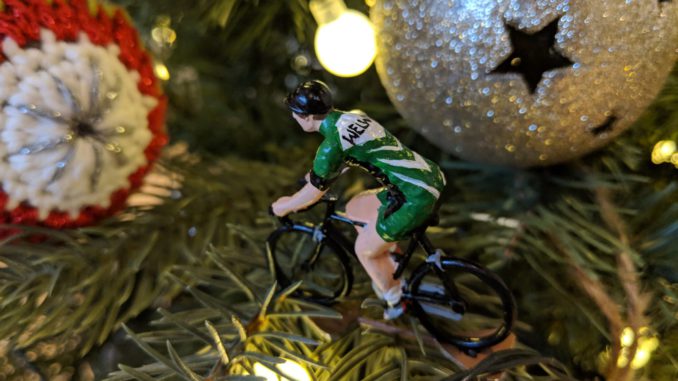 Season's greetings to all club members and friends. We hope that cycling kept you sane through two lockdowns and other restrictions during this strange year. Huge thanks to all volunteers who helped keep the club going through 2020 – be it Committee, Coaches, Admin, all who worked on the grounds at GSP, and the organisers of our club Zwift sessions. Thanks to Dave, Alex & others who ensured that we had a Club 10 series this year, albeit shortened to six events. A special mention for Francis and the 100s of hours behind the scenes invested in the club. Amongst other things, Francis has marshalled a workforce to prevent the Gosling track & bowl from falling into disrepair, and led the prep work that allowed training activities to safely restart.
Looking ahead to next year, we are hopeful some races will take place – the Hilly 50 Open TT on Good Friday (2 April) and the Welwyn round of the National Youth Omnium Series (22 May) are already in planning, as is another Club 10 TT series from May-August. It has not been possible to stage cyclocross in Welwyn this season since we lack a race venue on private land. The amount of sponsorship required for the Welwyn Petit Tour means that also is looking unlikely. There will be no Presentation Evening, and the club AGM will be online in February. Hopefully we will see the return of Welwyn Track League in April 2021!
There are some positives we will take forward out of Covid-19: the e-booking system for training, put in place at short order (thanks to Jeremy P!), which is a boon for coaching, as well as being essential for contact tracing. Our Membership is up, perhaps a reflection of increased interest in cycling from the general public. Our relationships with BC and GLL are strong and a real benefit, with the recent submission of the final Places-2-Ride grant application. We would love to hear about your festive rides – whether solo, as families or a Zwift training session. Please post any pics on our Facebook page, you never know who you may inspire! Best news came last week, with some senior club members having their first vaccinations against Covid-19, paving the way for a return to normality.
As a club we have come together during a very challenging year and we have become stronger for it. Looking forward to a better year in 2021.
Happy Xmas
The Committee