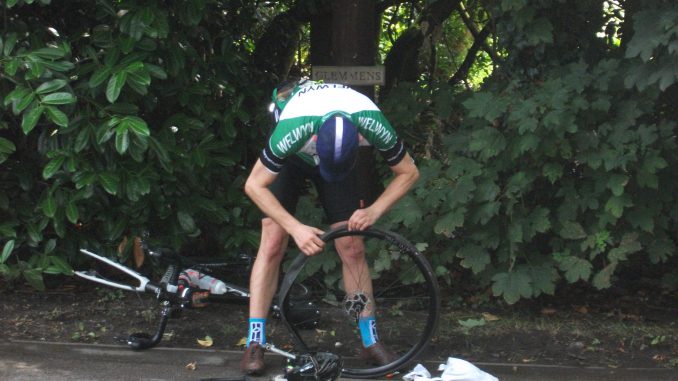 Back in the 80s before most club members were even thought of, the M25 was at last finished. Legend had it that the newly minted yuppies would challenge each other to a timed lap of the M25 (measured in hours not days). the London orbital audax is a cycling version of that.
Andrew Brown and Alex Peeke made the start line for the longest ride of the year so far. Despite having been at the HQ for over 8 hours Andrew still contrived to be late for the start but after that minor hiccup we were off into the wonderful early morning (0600) sunshine. The route soon took us through Eton and over the Thames and up past the castle before heading through Windsor Great park. A slight tail wind and fresh legs meant that we were soon at the first control in Cranleigh.
One of the limiting factors in this ride is crossing the Thames east of London. The Tilbury-Gravesend foot ferry was the chosen method but this is very small and with about 120 starters meant the biggest worry was having to wait too long for your turn. We got there just before 1330 and had to wait an hour for our crossing but there are worse places to be sitting in the sunshine and refreshing ourselves.
After a fairly bleak section through the Essex marshes we were soon on familiar roads heading towards Leaden Roding where the Audax Club Mid-Essex (ACME) had laid on a feast for us. By now we were both quite hungry having not had hot food since a bacon roll at around 0830 – it was now 1700.
Well refreshed we set off into more overcast conditions towards Harlow. In a few kilometres we met up with Julian who joined us for a section of the route. Long distance cycling is a psychological as well as physical challenge and riding within 5 miles of home is a real tester. By now the pasta and cake were sitting badly on my stomach so a quick vomit-stop on White Stubbs lane was in order. The rain then started to fall heavily and we donned capes for the last few hours. After St Albans we were in the dark lanes of the Chilterns and we were overtaking lots of riders by this point. The hills, darkness and tiredness were clearly catching people up. By contrast our chairman seemed to have renewed energy. We finally arrived 15 hours after leaving to a typical audax meal of veggie curry and rice pudding.
– Alex