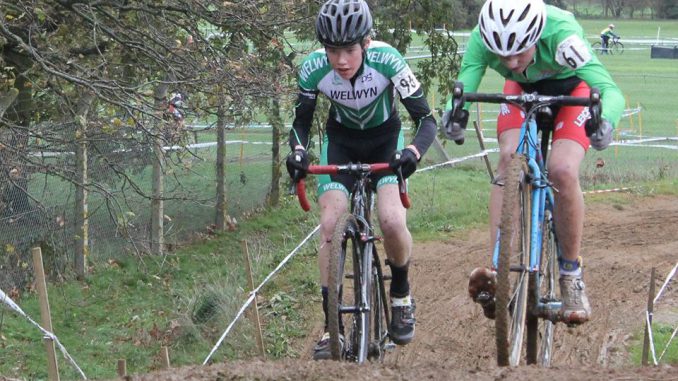 Podium finishes for Elspeth and Ollie
Round 4 of the BC National cyclo-cross series run at Trinity Park Ipswich on Sunday. Eight Wheelers riders rode in this National series event and they came away with some excellent results against tough competition.
Twenty riders competed in the under 16 girls race – Elspeth Grace was on the front row of the starting line up but had a slowish start on the opening tarmac section and was in twelfth place after half a lap – she worked her way through the field and soon joined the leading group of six riders. Poppy Wildman from Nottingham Clarion attacked and went into the lead. Elspeth was in the next group of three riders and put in a short attack with two laps left – she was caught but attacked again in the final lap and left her two companions to finish in a well earned second place with a great ride.
Lauren Higham was the other Wheeler racing in this category and finished mid field in 11th place.
The strong filed of 36 riders in the under 14 boys saw another great ride by Ollie Stockwell – he was in the leading group of six riders in the early part of the race – this was reduced to three soon
after when Emile Alexander from Lichfield opened up a narrow lead. Ollie then had a race long battle with Alec Gregory (Leicester) for the remaining two podium places – as they approached the final hurdle together Alec was over first with Ollie two lenghts behind – they rounded the final bend for the final 200m dash for the line on the road section. Ollie worked frantically to close the gap but lost out by the width of a tyre at the line to take third place. Another great ride. The diminutive Joe Kiely battled through to a good 10th place in this event.
In the under 14 girls race Imogen Chastell rode strongly to finish 5th in a field of 15 riders while Cai Davies was 32nd in the Junior event
There were 60 riders in the tough very competitive under 16 boys race – four Wheelers lined up for this event. Will Raymond who has dominated the Eastern League races was the top Wheeler in 6th place. Tom Durkin started well but the fast pace in the event saw him drop down the field in the later stages to finish in 35th place just behind Sam Asker 33rd  – Tom Martin making his debut in the national series finished tired and happy in 45th place.
On Sunday a large group of Wheelers riders will be at Redbridge for the Eastern Region Championship event