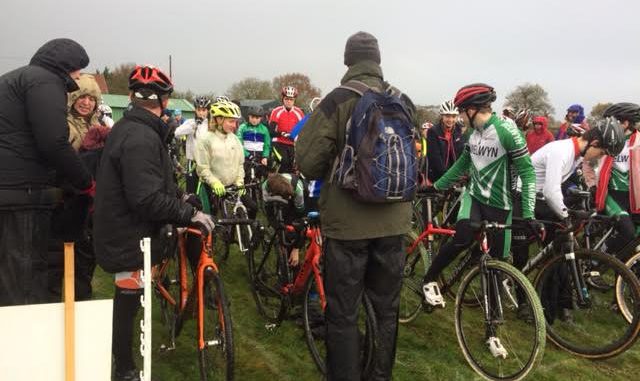 Results from the two Eastern Region cyclo-cross events at the weekend. WW riders were also riding the Central Cyclo-cross event on Sunday.
Will, Ollie and Imogen two wins each at the weekend
There were tough conditions for the Eastern  Region cyclo-cross League event on Saturday near Diss in Suffolk. Strong cold winds plus horizontal sleet did not deter  the Wheelers Youth riders who put up some tremendous performances. Will Raymond and Ollie Stockwell were the first and second in the Youth race plus Elspeth Grace in 10th spot and first girl. Immogen Chastell was 18th and top under 14 girl. Nathan Blackmore was also on top form taking 5th place in the youth event followed by Tom Durkin 11th and Lauren Higham 25th.
By the time the senior races got under way parts of the course could only be negotiated by riders running and carrying their bikes in the rain – Keith Stockwell was a fine 13th place in the 40+ race.
Michael Parry was 6th and third placed Junior in the Senior/Junior category race
The following day five Wheelers riders travelled to the  east coast to Southwold for the East League event – cold conditions and an excellent course saw Will Raymond and Ollie Stockwell again take the top two places in the Youth race, Joe Kiely had recovered from his problems in the Saturday race and was 8th and third under 14 rider. Immogen Chastell was once again the top under 14 girl.
In the Womens race Ellie Cadzow was 4th. Keith Stockwell had a good ride in the 40 + race finishing 13th.
With just six races to go in the East League Ollie Stockwell and Will Raymond are the top two riders in the League  separated by just one point. The Wheelers also head the table as top club followed by CC Ashwell
A number of the club riders travelled to Wokingham on Sunday for the Central League race organised by Henley CC. The racing was based on an old unused golf course using the bunkers as one of the hazards to be negotiated. Rupert Cavill and Tom Dixon fought it out for for 4th and fifth places in the under 10 race with Dillon Knott a few places back. Poppy Knot was 5th in the under 12 girls race.
For some strange reason the under 16/14 youth riders were not permitted to race on the full course used for the senior events – the club riders were really disappointed to miss out on a challenging course with bridges, sand and hurdles as they clearly had the skills and ability to race on the senior course. Tom Durkin and Gwill Park, Naomi Holt and Freya Butler all rode the under 16 race, while Tom Sharples, Michael Sumner, Alfie Aldridge and Ted Brett rode and finished in that order in the under 14 event.
Riding his first ever cyclo-cross race in the Novice event was Andy Holt who  was third in the Novice race.
John Cavill 22nd and James Robertson 26th in the 40+ race