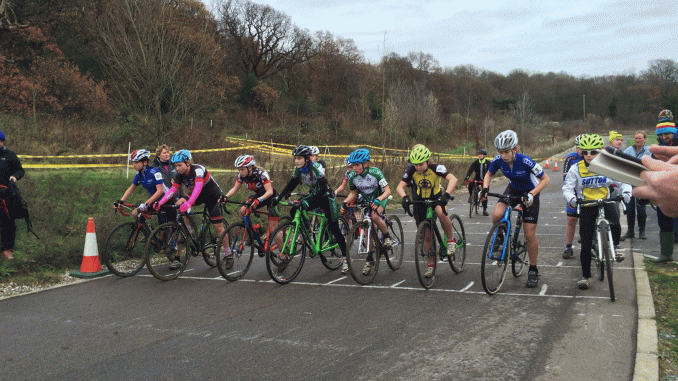 Another good days results for the Wheelers youth riders. Pics of the girls – Elspeth and Lauren plus Ollie Stockwell
A number of the Wheelers youth riders travelled to the Redbridge circuit on Sunday to compete in the East and South East Cyclo-cross Regional Championship.

The under 10 category had 35 riders on a short tough grass based circuit – Dylan Starkey finished 7th. Rupert Cavill unshipped his chain on lap one which dropped him to last place but he recovered to finish 14th.
In the Under 12 race we had Archie Bracewell who finished 17th.
The Youth riders rode on a much larger course with a number of difficult climbs and a number of tricky sections which required good bike handing skills.
The races started uphill on a tarmac road which soon spread the field. The under 16 boys set off with Will Raymond chasing Ben Tullett and the pair opened up a significant gap on the field – Ben Tullett from South London won by just over a minute. Will was second, Sam Asker 5th, Nathan Blackmore 8th (including two falls) and Tom Martin 12th.
The under 14 group started two minutes later and Ollie Stockwell was soon in the lead which he held to the finish despite falling off twice on the slippery sections with an impressive performance, Joe Kiely was 6th – he recovered from a mechanical problem on lap 3 and ran carrying his bike to the pits to get a replacement bike, Tom Sharples was 8th. Other Wheelers riders to finish were Joe Bennett, Michael Sumner, Ben Griffin and Sammy Gage.
The under 16 girls race saw Elspeth Grace storm into the lead on lap one and finish well ahead of the field while Lauren Higham rode well to finish in a strong second place.
The junior race was combined with the Senior 40+ group. Cai Davies returned to form with an excellent ride to finish second with Michael Parry 5th. Keith Stockwell riding in the 40+ category had an unfortunate puncture on lap 2 and then ran carrying his bike for almost a whole lap before changing bikes in the pit area – he lost a lap but recovered to finish the race in 50th place.
A tough days racing on a very hard course with lots of energy sapping climbs and muddy conditions with the bikes getting clogged up with mud. A number of riders had spare bikes located in the pit area enabling them to change to a cleaner bike for the next lap while their helpers cleaned the bike ready for the next change.