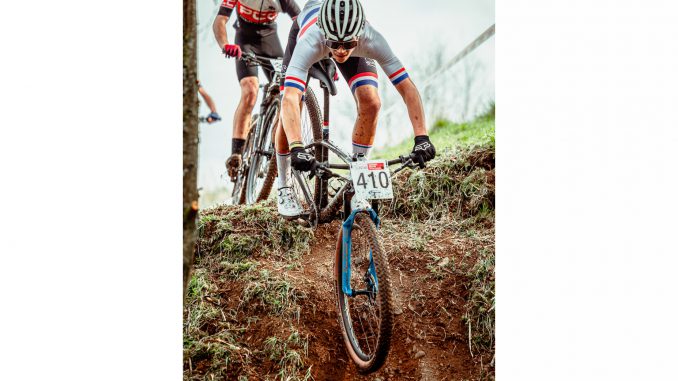 One week after the first round the UK's National Mountain Bike riders found themselves in the Scottish Borders for Round Two. The venue of Newcastleton is one of the renowned 7 Stanes trail centres in Scotland. (Stane is the Scots word for Stone and each centre has a stone sculpture that depicts a myth or legend.)
Newcastleton's trails have been closed since heavy storm damage earlier in the year and much of the existing flowy sections were unusable. Lots of new course design came into play and with this some long climbs, steep drops, sharp turns and a gap jump.
After last week's disappointment, Leon Atkins was gridded 10th on the 2nd row and managed a strong start up the steep grass slope before turning into the woods. He was on the leader's wheel while passing the pits and was spotted tightening his shoes, which told everyone who saw this that an attack was imminent The attack was solid and after 1 lap he had gained 45 seconds on Curtis MacKee (Scott Quanta) in 2nd place.
Leon continued to dominate and took a convincing win to gain the much needed maximum points, moving to 5th in the series and will start the next round gridded on the front row.