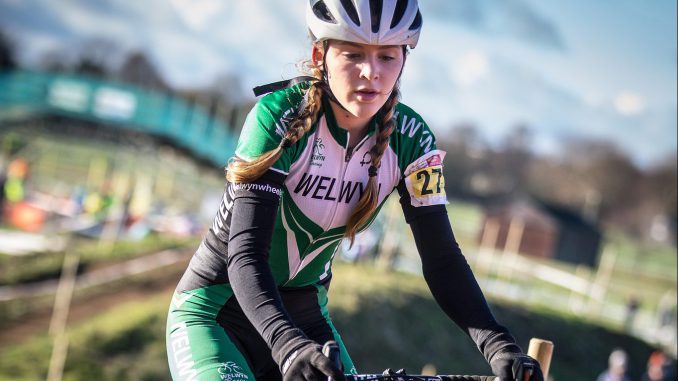 The CX National Trophy series entered it's penultimate weekend with race number 5 being held on 'home territory' in Eastern Region's Trinity Showground, Ipswich. The weekend saw a good number of Welwyn members racing with 10 riders making the journey to Suffolk.
After the mud and rain of round 4 in York, Sunday's racing in Ipswich proved a total contrast. The rain of Saturday made little impact on the newly designed course with there being little mud to speak of, meaning a quiet day in the pits, save for mechanicals.
The course opened a very straight start but there were strong headwinds to contend with in places, particularly on the opening straight. While relatively flat, there were plenty of technical challenges including 2 bridges, one with long steps up one side, and maximum UCI regulation size hurdles (complete with tape measure for those who thought they looked 'a bit high').
First off were the Junior boys with Adam Lightfoot coming in 18th.  This was followed by the Youth girls. Millie Coleman representing the club in the U14 girls coming in 10th. In the U16 girls Ellen Bennett had a good race starting from the front row of the grid. She was in 6th place together with 3 other riders at the end of the first lap. For most of the next couple of laps she was battling alongside Grace Lister for 4th and then she attacked on one of the bridges with just over a lap to go. Over the last lap she reduced the gap to 3rd place down to 20 seconds and finished a personal best National Trophy position of 4th. Iona Moir recovered well from a difficult start, but strong headwinds made it difficult to catch back up, finishing 16th.
Last but not least the Youth boys. In the U16s, Joe Kiely had a mechanical 1st lap, with his chain coming off. Despite a quick bike change, he was left chasing the leaders caused him to 'blow up', eventually finishing in 5th. George Gould also came running into the pits looking for his spare bike costing him places and finishing 74th. Nathan Hardy placed 43rd with Euan Woodliffe 22nd. In the U14 boys, Mark Lightfoot came in 4th, Calum Moir after a hard battle at the end came in 20th, and Dylan Starkey 39th.
After a couple of weeks break for Christmas, the final round of the series takes place the first weekend in Shrewsbury; expect the return of the mud!