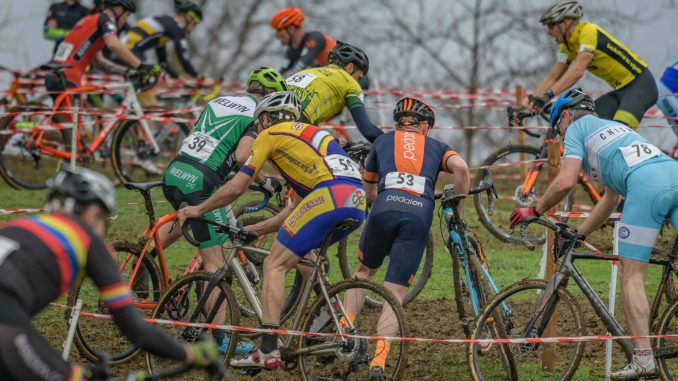 On Sunday the Welwyn Wheelers hosted the BC Eastern & Central Regional Cyclo-Cross Championships.
Almost 500 riders competed in the various age related races. The riders enjoyed racing on a superb new course designed by Francis and Graeme, prepared over two days by the Welwyn volunteers. Feedback on the course was unanimously positive – it had everything needed to make the racing challenging and engaging. The very long straight start followed by the long grind up the hill by the railway meant that any gridding grumbles were meaningless before the technical sections started with vengeance –  a true 'cross course if ever there was one.
The weather was OK with a mix of sunshine and some light drizzle. Course conditions were very slippy in places after a lot of rain but Stanborough drains quickly and the mud grew firmer throughout the day in places.
The club riders notched up six victories in the youth and junior events plus a lot of good minor places. Among the victories it was nice to see the return of Elspeth Grace, just back from her first term at Cambridge University, winning the Womens event – her first race of the season.
After two days of mowing and staking, Sunday was also a long day for the race officials and helpers, with the course builders on site from 06:30am. The course had to be dismantled and packed away after the last event as the light faded – on completion in the dark at around 5:30am the knackered team retired to the local hostelry for some much welcome refreshment. A well run day of racing much appreciated by the riders – congratulations and thank you to Susi Sharples the event Organiser and all the officials and numerous helpers who made this event possible.
Women
1 Elspeth Grace Welwyn Wheelers CC Senior Women Eastern
Senior Men
10 Nathan Blackmore Welwyn Wheelers CC Senior Male Eastern
41 Ben Smith Welwyn Wheelers CC Senior Male Eastern
Junior Men
1 Oliver Stockwell Welwyn Wheelers CC Junior Boys Eastern
3 Joseph Bennett Welwyn Wheelers CC Junior Boys Eastern
6 Archie Peet Welwyn Wheelers CC Junior Boys Eastern
12 Louis Sutton Welwyn Wheelers CC Junior Boys Eastern
21 Charles Rollins Welwyn Wheelers CC Junior Boys Central
Vets 40-49
35 John Cavill Welwyn Wheelers CC Vet Male 40-49 Eastern
51 Alex Peeke Welwyn Wheelers CC Vet Male 40-49 Eastern
71 Neil Grigson Welwyn Wheelers CC Vet Male 40-49 Eastern
Vet 50
62 Garry Blackmore Welwyn Wheelers CC Vet Male 50-59 Eastern
Under 16 Girls
2 Ellen Bennett Welwyn Wheelers CC U16 Girls Eastern
5 Iona Moir Welwyn Wheelers CC U16 Girls Eastern
7 Ella Coleman Welwyn Wheelers CC U16 Girls Eastern
10 Eva McCabe Welwyn Wheelers CC U16 Girls Eastern
11 Sasha Blendis Welwyn Wheelers CC U16 Girls Eastern
14 Kirsty Ormrod Welwyn Wheelers CC U16 Girls Eastern
Under 16 Boys
1 Joe Kiely Welwyn Wheelers CC U16 Boys Eastern
3 Euan Woodliffe Welwyn Wheelers CC U16 Boys Eastern
15 Caelan Miller Welwyn Wheelers CC U16 Boys Eastern
18 Toby Brown Welwyn Wheelers CC U16 Boys Eastern
23 Nathan Hardy Welwyn Wheelers CC U16 Boys Central
27 George Gould Welwyn Wheelers CC U16 Boys Central
31 George Dalgarno Welwyn Wheelers CC U16 Boys Central
Under 14 Girls
7 Millie Coleman Welwyn Wheelers CC U14 Girls Eastern
8 Beth Bennett Welwyn Wheelers CC U14 Girls Eastern
11 Lena Alford Welwyn Wheelers CC U14 Girls Eastern
Under 14 Boys
1 Mark Lightfoot Welwyn Wheelers CC U14 Boys Eastern
11 Dylan Starkey Welwyn Wheelers CC U14 Boys Eastern
16 Ethan Storti Welwyn Wheelers CC U14 Boys Eastern
22 William Pollard Welwyn Wheelers CC U14 Boys Eastern
Under 12
1 Finlay Woodliffe Welwyn Wheelers CC U12 Boys Eastern
2 Rupert Cavill Welwyn Wheelers CC U12 Boys Eastern
11 Dillon Knott Welwyn Wheelers CC U12 Boys Eastern
16 Elise Whitaker Welwyn Wheelers CC U12 Girls Eastern
24 Megan Hughes Welwyn Wheelers CC U12 Girls Eastern
Under 10
9 Elijah Storti Welwyn Wheelers CC U10 Boys Eastern
10 Xavier Knott Welwyn Wheelers CC U10 Boys Eastern
12 Daniel Elliott Welwyn Wheelers CC U10 Boys Eastern
18 Cerys Mitchell Welwyn Wheelers CC U10 Girls Eastern
Under 8
8 Amelie Cragg Welwyn Wheelers CC U8 Girls Eastern