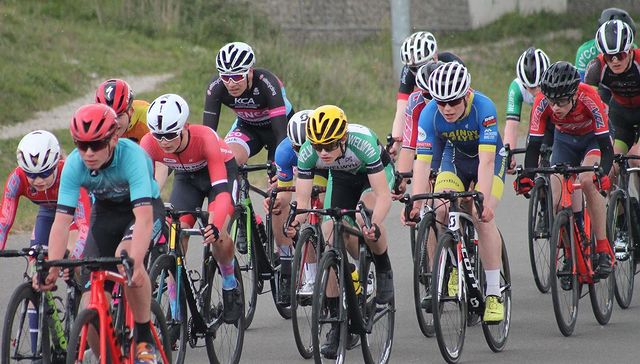 Calum Moir continued his dominant form winning the second Deux Jours de Cyclopark race of the season – another 2 day stage race, very well organised by VC Londres to follow the April event (also won by Calum in the U16 boys category). Calum's victory this time was comprised of two stage wins and prime bonuses totalling 38 seconds, importantly taking 8 prime bonus seconds in the final race to seal victory by a slender 2 second margin over Jacob Bush of Bourne Wheelers CC. Completing the strong Wheelers line-up in the U16s boys category were Ethan Storti (13th overall), Robin Steer (16th) and Dlyan Starkey (20th overall in Group 2).
Competition was strong throughout the categories and racing was equally exciting in the U14 boys category. Henry Hobbs was consistently the best finisher in the U14 boys stages with no less than three 2nd places and victory in the last race on Sunday. However, this wasn't enough to overturn the lead of Hudson Hendry (Rockingham Forest Wheelers) who had amassed more time bonuses in the earlier races. That left Henry with a fine second place overall, not quite enough to repeat his overall win in the April event. Leon Atkins also continues to impress in his first U14 season, finishing 5th overall including third on the final stage.
Tyler Six was only able to attend stage 1 of the two stage U12s race, crossing the line 5th in the bunch sprint to finish 13th after an early break split the peloton.