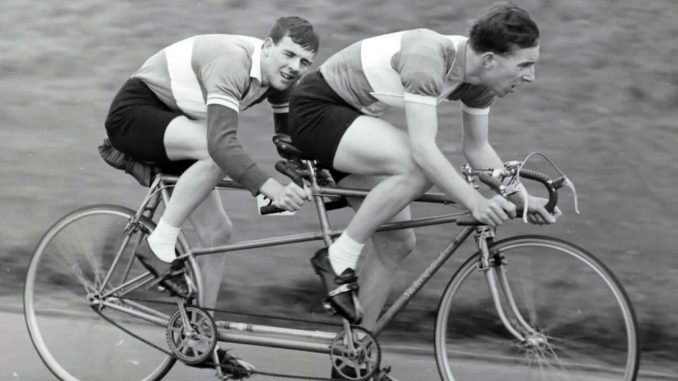 It is with greatest sadness that Welwyn Wheelers announce the death of Mike Daniell on 20th April. Mike passed away aged 86, at the Autumn Vale care home in Oaklands.
Mike moved to Welwyn Garden City in 1957 and joined Welwyn Wheelers soon after, remaining a stalwart of racing and social activities from the 1960s onwards, until hanging up his wheels around 2005. He was later also a member of Verulam CC. Mike was an all-rounder but particularly strong in time trials, regularly placing in the top 10 in open events. He rode all distances up to the 12 hour, and was part of the winning team in 1965 covering 234 miles. He was an old-school "mile eater" and his diaries in the 1960's record annual distances just shy of 12,000 miles, based mainly on rides to work and back as he rarely used a car. At one period Nigel Dean (a British ex-Professional) lodged with his family, and after Mike got Nigel a job at Fleet Street, they "2-Upped" there and back, daily.
Mike's name can be found on many of our club distance trophies. He is perhaps best remembered as the owner of a racing tandem, on which he partnered various club mates, even tandem-pacing the infamous mid-week training rides to Biggleswade, led by Karl Gough (as remembered by Brendan McKeown). Mike still holds the club tandem record for the Welwyn Garden City to Biggleswade course, set in 1960 with Peter Waghorn our long time chairman, as stoker.
Professionally Mike was a journalist, working at one point on the magazine Cycling – forerunner to Cycling Weekly. During this time he met his wife Jean, a fellow cyclist. They lived in Welwyn Garden City all their married life apart from a 2 year stint in Banbury when Mike worked on a paper there; Mike was also editor of the Welwyn Times. Mike and Jean have three children: Carol, Christopher and Sally, nine grandchildren and eleven great grandchildren. Carol is married to Peter (Anstey), who is still an active member of the Wheelers (and whom Mike introduced to cycling much to Carol's chagrin, as she had vowed never to marry a cyclist!) Peter remembers Mike once turning up at a time trial with a 60-tooth chain ring….. and "defeating the opposition before the start".
Mike's funeral is on 12 May and arrangements can be found here Tribute to Michael Daniell, 1936 – 2023 (muchloved.com)