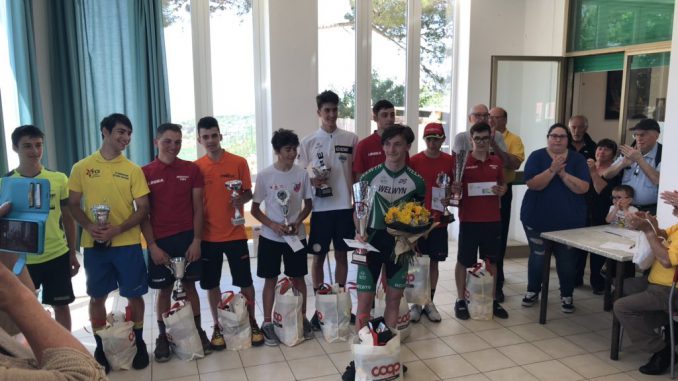 "Cappello" to Joe Kiely who travelled to the historic province of Livorno in Tuscany this weekend (with his mates Innes and Billy from VC Londres) to compete in the 76th edition of the annual Coppa Montenero – a prestigious Italian youth race with a large field raced over a distance of 79.5km and featuring two 5km climbs.
The British trio did themselves proud by getting into the deciding break, with Joe launching a solo attack to 'Blow the Bl..dy doors Off!' with 20km to go to win by over a minute. "That was my favourite race EVER!" said Joe afterwards, collecting a large trophy and plenty of swag.
Back in Britain, at the equally glamorous Winchester Park and Ride, Ellen and Dan Phillips both picked up wins at the Sotonia CC Summer Criterium on Sunday while Mark Lightfoot's 2nd place was the pick of the Wheelers results at Hog Hill on Saturday.
Finally, Louis Sutton continued to show his form by getting into the break at the Team MK road race on Sunday at the Greens Norton circuit near Towcester. The break stayed away, with Louis finishing in 6th in wet conditions.
LVYCC Crits (Redbridge)
U16 Boys
10. Nathan Hardy
U14 Boys
2. Mark Lightfoot
10. Ethan Storti
15. Callum Moir
17. Sam Quiggin
18. Dylan Starkey