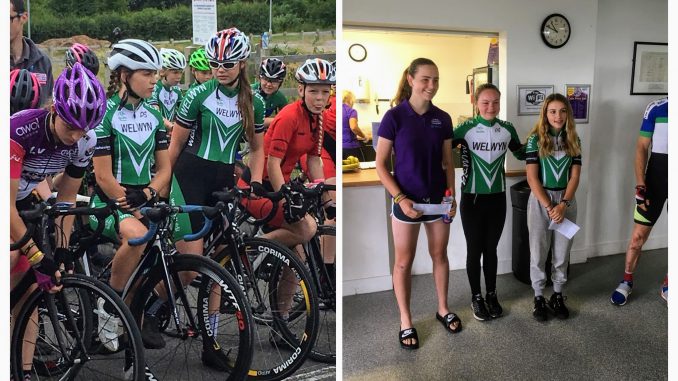 The Wheelers youth riders dominated the racing at the Hog Hill road circuit on Saturday, picking up a hat trick of wins and a brace of one-twos at the Lee Valley Youth Summer Series.
Joe Kiely shook the U16 race up in typical style, launching a solo break early on and building up a comfortable lead. With a guaranteed win seemingly in the bag, his heart must have sank when Oli Stockwell bridged across with two laps to go, with teammates Tom and Rizwan disrupting the peleton's chase efforts. The crowd at the top of the hill, eagerly anticipating the two man sprint for the chequered flag, were then treated to the pair of them wheelying across the finish line in the style of Peter Sagan, with Joe taking top spot by virtue of having a better controlled wheely. Mrs Hameed's iconic photo of the two of them can now be found going viral on social media. The views of the commissaires on this matter were not reported.
In the Under 16 girls event it was another 1,2 for the club albeit it in a more conventional manner – Iona Moir attacking up the hill to take top spot and Ellen Bennett winning the bunch sprint for second.
In the U14 boys Euan Woodlife put in an lone attack in the last few laps of the 9 lap race, winning by over 20 seconds. Caelen Miller grabbed 5th place in what was left of the bunch with Mark Lightfoot and Calum Moir finishing mid-way in the large field.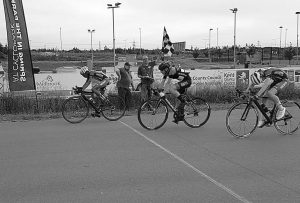 Dylan Starkey kept up the good form by taking third spot in the under 12 race with Fin Woodliffe and Rupert Cavill close behind.
A few of the Youths had chosen to commence this weekend's racing at Friday's Spring in the Park races at Cyclopark rather than the track league. Iona picking up another win and Caelen getting one over Euan this time to take the win in a bunch sprint.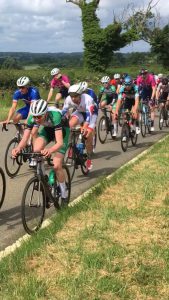 On Sunday two of our Junior riders competed in the 60 mile 2/3/4 Team MK Central League Road Race on the Greens Norton circuit near Towcester. On a picturesque course for the spectators the field of 80 riders had to contend with poor road conditions resulting in a host of punctures – Joe Bennett had to abandon half way through the race when he hit a deep pot hole and Nathan Blackmore finishing in 13th place.