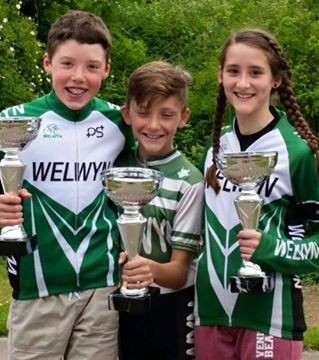 Wins all round for Welwyn riders!
Sunday saw the 2015 Hillingdon youth TT take place at the Hillingdon Slipstreamers home road circuit in Hayes. The course was set so that all riders would complete 10 laps of the full course which would  bring them just under the 10 mile mark. Taking part for Welwyn Wheelers in the under 12 category was Joe Kiely and in the Under 14 category Lauren Higham and Oliver Stockwell would be representing the club.
Joe Kiely got under way just after 11:15 and immediately started to catch the other competitors ahead of him. As one of the last to be set off, Joe had a clear sight of all the other riders and over the course of 10 miles, methodically picked them off one by one to ensure that his finishing time of 25 minutes and 40 seconds was an astonishing 1 minute and 50 seconds ahead of his closest rival. Joe attacked from the very start and it was clear that his pace and judgement over the distance was spot on as he never slowed and consistently put in lap times of just over 2 minutes 30.
In the under 14 race, Lauren Higham and Oliver Stockwell were also the penultimate and final riders to set off and again they used this to their advantage by focussing on the riders in front of them. Lauren consistently put in lap times  in the 2 minute 30 region, dipping below this target time in the middle of the race and bringing her to the finish in a time of 25 minutes and 20 seconds. Her smooth style and metronomic pedalling was clearly an advantage as she took the girls U14 title by just under 2 minutes. This is Lauren's second TT triumph in just over a week as she won the North Road CC Juvenille award over 25 miles last weekend in a time of 1 hour 13 and this just her second outing on the new bike provided by Stevenage Community Trust.
Oliver Stockwell had a less than auspicious start as he unclipped his foot from the pedal at the start but, perhaps driven by this, accelerated away from the start line and barely slowed down from start to finish. Ollie's aggressive approach saw him catch many of his rivals over the 10 miles and by the finish he was 1 minute and 20 seconds ahead of the second place finish. Ollie set himself a new personal best with an amazing finishing time 23 minutes and 5 seconds. An average speed of just under 26mph!
The prizes on the day meant that all three Welwyn riders finished top of their respective categories even though all three are new to the discipline. I'd like to thank Dave George and his team at Hillingdon Slipstreamers for putting on an exceptionally well organised and well run event.