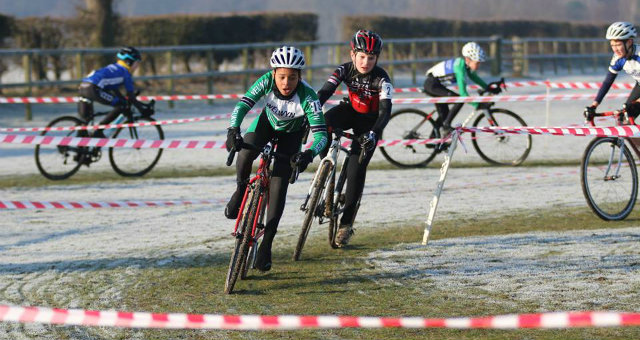 The closing event of the Eastern cyclo-cross league run by Iceni Velo CC near Norwich saw the Wheelers youth riders in dominant form.
Oli Stockwell needed to win the Under 16 race to take the lead in the series from Adam Lightfoot (CC Ashwell) – Oli attacked from the start and won by 26 seconds from his Ashwell challenger.Tom Martin was 4th in the race and Joe Kiely 7th (first under 14). Lauren Higham was 12th and second girl. Elspeth Grace rode in the combined 50+/Womens race in a field of 72 riders – Elspeth was the first women to finish in 22nd place and around 2 minutes ahead of the next Women.
Dylan Starkey was third in the under 12 event and Keith Stockwell was 15th in the 40+ race. The series prizes and trophies for the various age categories were awarded at the AGM after the last race of day. Elspeth won the Womens series, Oli Stockwell the under 16, Joe Kiely the under 14 and Lauren Higham the under 16 girls. In addition the Wheelers won the Team prize for the 4th year running. A successful day.
The previous day a number of the Wheelers competed in the Central League event at Milton Keynes run by Corley Cycles. Rupert Cavill/ Finlay Woodliffe and Dillon Knott scored a 1,2,3 in the under 10 race. Beth Bennett took third place in the under 12 girls event and Thomas Dixon was DNF with a mechanical in under 12 boys. Joe Kiely and Euan Woodliffe were first and second in the under 14 boys event followed by Ellen Bennett first under 14 girl with Eva Mcabe and Molly Marriot 3rd and 5th. The under 16 race was another 1,2 for the Wheelers by Oli Stockwell and Joe Bennett.
In the senior event – John Cavill 14th and James Robertson 39th in the 40+ category.
Another good days racing and good result for the Wheelers
The closing race in the Central League is this weekend. With one race remaining – Oli Stockwell, Archie Peet and Joe Bennett are top three in the Under 16 group, joe Kiely needs to win to get a top 3 place in under 14 group while Naomi Holt and Freya Butler lead the under 16 girls category and Ellen Bennett lies in second place in the under 14 girls group.
Peter