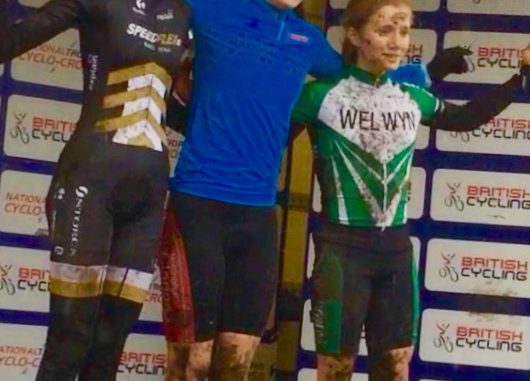 Seven of the Wheelers riders travelled to Durham for Round 3 of the National Cyclo-cross series on Sunday. Star performer on a tough and muddy course  was Elspeth Grace who was third in the Youth girls race – her third top three finish in the series – Lauren Higham after a mechanical on both bikes was 13th.  Ollie Stockwell was 10th and Joe Kiely 29th in the under 14 Boys race – Imogen Chastell was 12th in the under 14 girls category.
Tom Durkin and Sam Asker were 35th and 36th in the under 16 boys event.
On Saturday a number of the Wheelers competed in Round 11 of the Eastern cross League at Bury St Edmunds. Michael Parry and Cai Davies were 9th and 14th overall  in the Senior and Junior race while Robert Bloxham was 14th in the 50+ event. In the youth race Lauren Higham was 10th and second girl.
A much larger number of the club riders travelled to the Central cross League event at Houghton Regis on Sunday – Tom Dixon and Rupert Cavill had a tremendous battle in the under 10 race finishing third and fourth in a sprint finish. Dillon Knott was 6th and Mackenzie Holt 10th. In the under 12 race Poppy Knott was 5th and Archie Bracewell 8th
The remaining races moved to a larger more interesting open field flat course with just a trace of mud and steps to negotiate – Eleanor Macardle had her best race of the season taking second place in the under 16 girls race chased home by Naomi Holt and Freya Butler in 3rd and 4th places. Tom Sharples was third, Michael Sumner 5th Ted Brett 6th and Alfie Aldridge 7th in the under 14 boys event. Gwill Park was 6th in the under 16 category
In the Senior events Ellie Cadzow was the clear winner by just over a minute in the Womens race with Rebecca Maynard 11th.
Other results – Dylan Hubble 16th and Andy Digby 20th in the Senior race – Toby Miles 7th in the Junior event and John Cavill 34th in the 40+ race
The next Central League race is at Kettering on Saturday and the Eastern League event is on Sunday at Hempton, near Fakenham