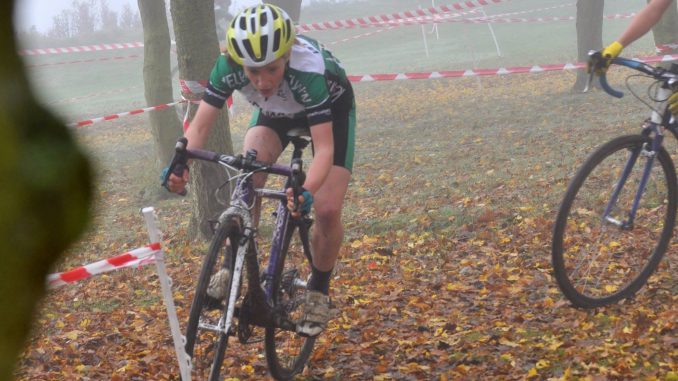 Twenty nine riders took part in the Welwyn Wheelers Cyclo-cross Championships on Sunday as part of the East Region event at Grafham Water.
The racing got under way at 10 o'clock in cold and foggy conditions – first up were the under 10 group – new member Dylan Starkey and Fin Woodlife got away well and were in second and third places on lap 1 and they held these places until the final lap when Fin was edged out in the sprint for the line and finished 4th.
Elder brother Euan was on good form in the under 12 race and took a well earned  second place with a strong ride – Max Jackson was 14th and Isaac Whitten 19th
Next up were the 60 riders (including 20 Wheelers) in the youth race who rode the full course – Will Raymond was in the leading duo as they approached the gully at full speed after coming out of the trees – decision time – jump the gully or dismount and carry the bike – they both jumped and Will had a spectacular crash and somersaulted as he lost control – he quickly remounted and  caught the leader. They stayed in touch for two laps and Will then rode away to take the decisive victory. Ollie Stockwell and Nathan Blackmore were in the top group of chasers – Ollie with another storming ride finished 4th overall and top under 14. Nathan 6th, Joe Kiely 8th (second under 14), Tom Martin 12th. Elspeth Grace was 17th and top under 16 girl, Lauren Higham 21st and second girl. Imogen Chastell finished in 27th place and second under 14 girl.
Tom Durkin had a mechanical problem at the gully on lap when he jumped the hazard and his tyre rolled off – he recovered to finish 20th.
Other finishers were – Tom Sharples (26), Jenna Miles (43) Michael Sumner (46) Ellie Mcardle (50) and Freya Butler 53.
In the 50+ category Rob Bloxham was 22nd with Dave Martin and John Sumner further back in the field . Elle Cadzow was 4th in the Womens race
There were four club riders in full field of 80 riders in the 40 to 49 group – Keith Stockwell after a slow start worked his way into 10th place but then had to abandon the race as he had a mechanical problem losing his front tyre and unable to continue. Andy Brown was the first club rider to finish and became Senior club champion followed in by Garry Blackmore and Tim Chandler.
The final race of the day saw Cai Davies, Michael Parry and Toby Miles competed for the top Junior award as part of the Senior event – Michael Parry was well placed in the early stages, can then caaught him an they changed places lap after lap – Cai attacked in the final lap finishing in 10 place overall with Michael 70metres behind him in 11th place. Toby Miles was 26th.
A good days racing and a good competitive club cyclo-cross championship – the hard won trophies will be presented at the Social event on Saturday 30th January at Codicote
Fifteen club riders chose to ride the Hitchin Nomads Central Region League event. Tom Dixon, Rupert Cavill and Dillon Knott were 4th 6th and 8th in  the under 10 race, Archie Bracewell and Sam Newman rode the under 12 event (8th and 10th) Ben Hinchliffe and Ted Brett 3rd and 5th in the under 14 race. James Robertson, John Cavill, John Peet and Steve Grout all rode the 40-49 race while Asa Grout and Jo Puttock took part in the Novice event.