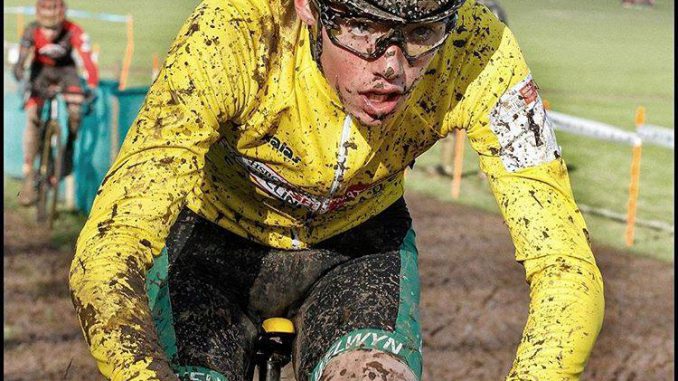 A tough but rewarding days racing at ShrewsburyRound 3 of BC National cyclo- cross series was run at Shrewsbury on Sunday on a difficult muddy course which resulted in lot of riders falling off, many mechanical problems and crashes on the wet and very slippery course.
In the under 16 race after a fast start Oli Stockwell worked his way onto the front of the leading group of 6 riders and opened up a useful lead on the field. The conditions were gruelling on a wet and muddy course requiring bike changes every time they
passed the pits keeping the pit crews hard at work . After completing lap one the lead rider of the group of 6 clipped a marker post and caused 5 of the 6 riders in the group to collide with each and fall. In the collision Oli suffered a front tyre blow out caused by a chainring cutting clean through the tyre. Oli then ran a third of a lap before he could change his bike in the pits. Having dropped to 6 th place he then chased down the riders for the remaining 2.5 laps, gradually working his way through the group and though he was closing down on the 2 leaders he finally ran out of time and finished in a well earned 3rd place. This enabled him to retain the leaders jersey and increased his lead in the series competition. Archie Peet finished in 20th place
Euan Woodliffe and Caelen Miller rode in the under 14 category. Euan finished in 4th place and moved up to second place in the overall results after 3 races. Caelen Miller finishd 9th.
Joe Kiely travelled to Belgium, the home of cyclo-cross, to ride the Telenet Super Prestige event at Gavere. He finished in 22nd position on another muddy course.
Peter