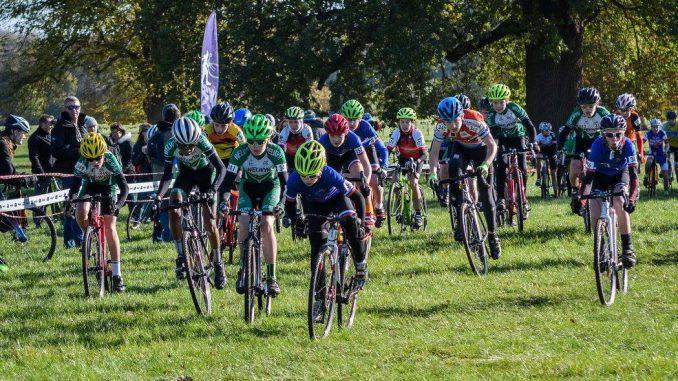 Shuttleworth College near Biggleswade on Sunday had a massive entry from the club riders as this race was used to decide the winners of the clubs cyclo-cross trophies.
Daniell Elliot got away to a good start in the under 8 race and was the clear winner on the day with a positive ride. Henry Landon was second in the under 10 race of 21 riders with Xavier Knott in 9th place and Megan Hughes 16th.
There was a positive 1, 2 in the under 12 event with Dylan Starkey going into the lead from the start and opening up a good lead, Fin Woodliffe took second place followed by Dillon Knott 7th, Rupert Cavill 8th (on a borrowed bike) and Thomas Dixon 9th. Elise Whitaker came 8th in U12 girls.
The youth race for under 14 and 16 riders was run on the large course which contained a steep climb. Oli Stockwell and Joe Kiely were at the BC ODA training day so it was all to play for the under 16 riders – Tom Sharples got away with a good start in the leading group and as the race developed, he was in second place going into the final lap and finished just 5 seconds behind the winner. Archie Peet was 4th, Louis Sutton 6th , Rizwan Hammed 8th.
Another 1, 2 in the Under 14 race with Euan Woodlife and Caelan Miller leading the way, Callum Moir 8th, Max Jackson 16th – Ellen Bennett took second place in the under 16 girls event with Beth 4th under 14 girls.
The various senior races completed the days programme – John Cavill was 25th in the massive 40+ race of 98 riders, Tom Hinchliffe 39, James Robertson 51st and Malcolm Starkey 82nd.
Jamie Dene put in a great ride to win the Junior race and used his climbing skills to win the race by a good margin. Joe Bennett crashed out over the hurdles and ended up in hospital (4 stitches and recovering on crutches).
Elspeth Grace won the Women's race by well over a minute in a field of well over 30 riders. Ellie Cadzow 17th and Freya Butler 2nd Junior.
Chris Murphy retained his championship status in the 50+ category, 38th in the 70 strong field. Matt Davey was the leading club rider in the Senior race in 34th place Peter Draper 61st.
The Novice race had a number of club riders/parents – Richard Blaxland 7th, Rob Dixon 10th, Ronan McCardle 14th and Declane McCabe 16th.
The cold wind plus the hilly course made for a tough days racing.
On Saturday a few Wheelers riders travelled to Bury St Edmunds for the Eastern League event – Joe Kiely won the under 16 race with Archie Peet 4th while Euan Woodlife and Caelen Miller had a 1, 2 in the under 14 category race. Dylan Starkey was third in the under 12 group and Daniell Elliot was first in the under 8 class.
Peter